Girl plays with giant python 4 times her size in viral VIDEO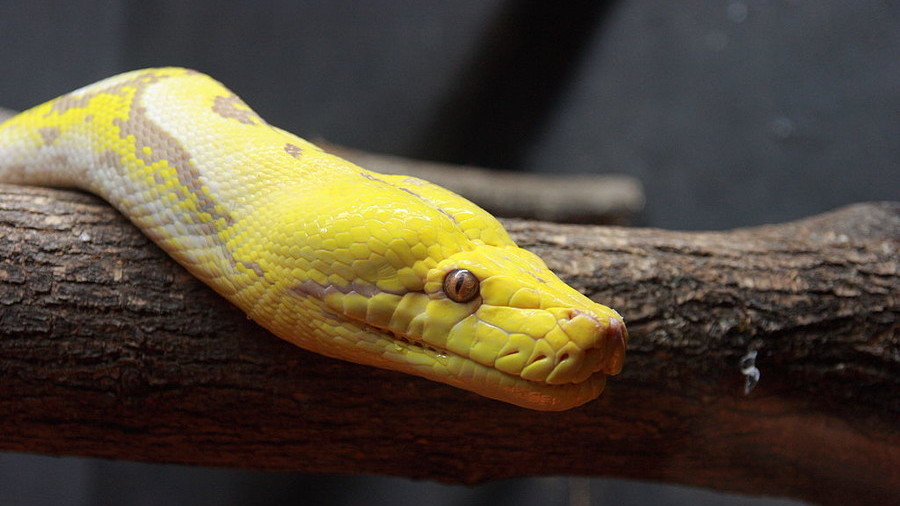 An astonishing video of a little girl playing with a 13ft yellow python has divided the internet. 'Cher' the python can be seen coming face to face with the five-year-old girl before receiving an affectionate pat from the child.
The girl, who seems totally unfazed by the presence of an enormous reticulated python that could swallow her whole, was filmed down the side of a Surrey home. The video was posted online by Ed Taoka, who shares dozens of videos of his snakes 'Sonny' and 'Cher' on social media.
Under the viral video, which has been watched 386,000 times on Facebook and 76,000 times on YouTube since it was posted on Monday, Taoka wrote: "Friends for a lifetime! Reticulated Python: I just want your crisps."
Taoka's Facebook and YouTube videos often garner thousands of views, including one of his daughters having a snooze on the sofa as the monstrous snake slithers along right beside her. In his YouTube bio, Taoka points out that "snakes are not bloodthirsty monsters" but "are often wrongly portrayed by the media to cause panic and paranoia."
"These videos highlight the extremely placid nature of what actually happens looking after well-kept reptiles in a domestic setting," he said. Taoka also includes a tally of the number of animal bites to his daughter from 2012-2018. The now deceased family cat has bitten her 4,673 times, their tortoise has so far bitten her once, and Sonny and Cher have accumulated a total of zero bites between them.
While some YouTube users said they found the footage "beautiful," others questioned how it could be safe having such a massive snake around a small child. One said "can somebody explain to me how this is safe?" while another commented: "When you come home and the python has killed your child, remember it's a python and that is what pythons do."
Reticulated pythons are the longest snakes in the world. Despite being non-venomous, there are multiple documented cases of people being swallowed or strangled to death by pythons.
In Indonesia in June, a 54-year-old woman was swallowed whole by a reticulated python. In 2017 a 25-year old farmer went missing, eventually discovered in the belly of a reticulated python.
Think your friends would be interested? Share this story!