Christian gay sex row talk trumps key Brexit motion as Lib Dems' Tim Farron skips vote
Published time: 17 Jul, 2018 11:04
Edited time: 6 Aug, 2018 09:35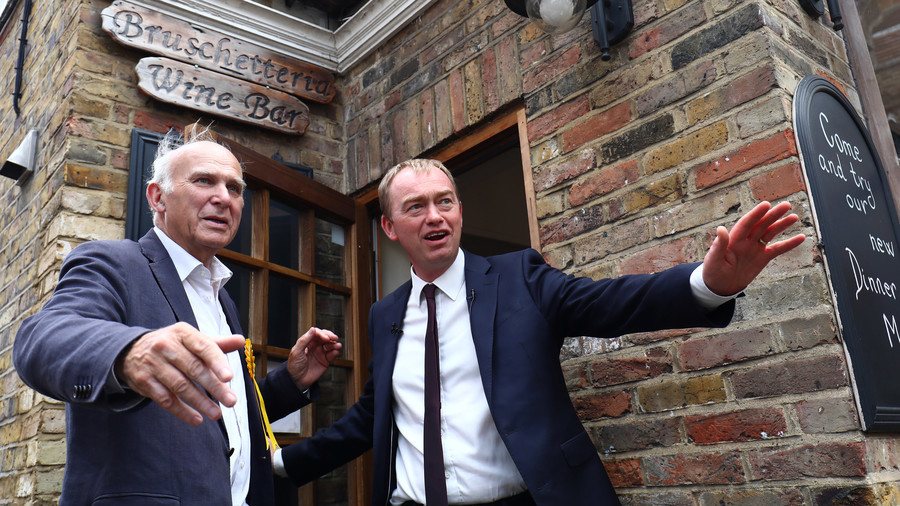 Tim Farron, the former Liberal Democrat leader, has been castigated for missing a key Brexit vote, to give a speech on his gay sex beliefs that were at the center of a row during the 2017 General Election (GE) campaign.
Farron, a committed Christian, who faced repeated questions over his attitude towards homosexuality during the 2017 GE, has come under fire from pro-EU MPs for not turning up for the crucial Customs Bill vote on Brexit in parliament on Monday.
Farron was not the only Lib Dem to feel the ire of Pro-EU MPs. His successor, Vince Cable, also received a severe backlash from parliamentary colleagues for missing out on critical votes which saw Theresa May's government narrowly defeat a backbench rebellion - by 3 votes.
READ MORE: 'Afraid of their own MPs': May seeks to shut down parliament early as Brexit tensions boil over
Labour's shadow justice secretary, Richard Burgon, took to social media to voice his displeasure at Farron and Cable's absence.
He tweeted: "Journalists reporting current Lib Dem Leader Vince Cable and last Lib Dem Leader Tim Farron didn't vote in one of tonight's votes in which Tory Government only survived by 3 votes. Last week they brought a motion to get into Government with the Tories."
Stephen Kinnock, Labour MP for Aberavon poured scorn on the two Lib Dems who supposedly want a 'soft brexit', and who have advocated a second referendum.
"Last night two Brextremist-driven amendments were carried by a whisker - 3 and 4 votes, respectively. 14 Tories rebelled. Tim Farron and Vince Cable (those doughty, fearless crusaders against a hard Brexit) didn't vote."
Farron has subsequently issued a statement to apologize for missing the close Brexit vote, insisting he had been given authorisation to attend the pre-arranged event.
The MP for Westmorland and Lonsdale tweeted: "I was authorised to be absent from the vote last night for a pre-arranged engagement. Nobody expected the vote to be as close as it was. We clearly called it wrong, as did Labour, and I take full responsibility for my part – the Tories don't deserve any luck."
May faced one of the biggest tests of her authority on Monday night, as 14 Tory rebels voted against a Euroskeptic clause that will forbid the UK collecting tariffs on behalf of the EU, unless the bloc agrees to do the same. Guto Bebb resigned as minister for defence procurement shortly after voting against the government.
An amendment that would prevent Britain from joining the EU's VAT regime drew 11 Tory rebels, but the PM narrowly avoided defeat with the help of three Labour MPs, Frank Field, Kate Hoey and Graham Stringer, on both.
Like this story? Share it with a friend!