UK Foreign Secretary Boris Johnson resigns amid cabinet squabbling over Brexit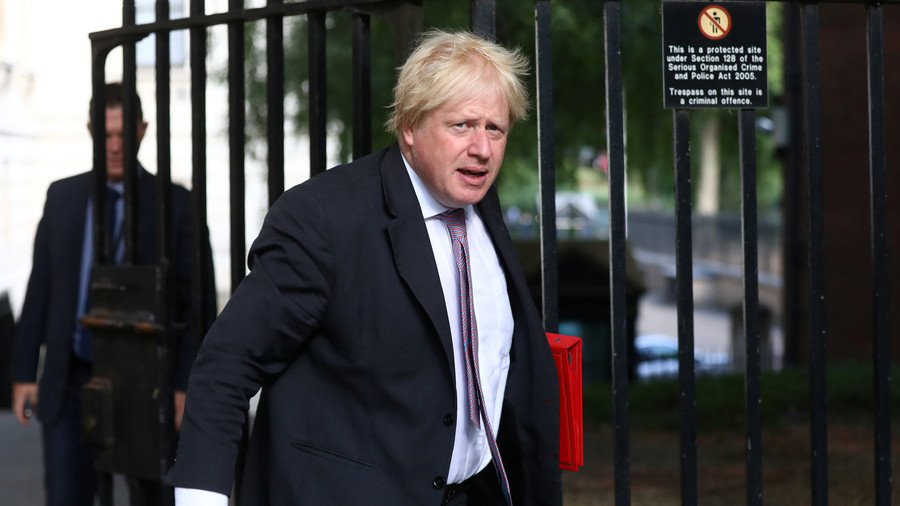 Boris Johnson has resigned as UK foreign secretary, Downing Street has confirmed. It represents yet another blow to the government of Theresa May, who is pushing for a soft Brexit plan that has angered many Conservatives.
"This afternoon, the prime minister accepted the resignation of Boris Johnson as foreign secretary. His replacement will be announced shortly. The prime minister thanks Boris for his work," Downing Street said in a statement.
READ MORE: May appoints new Brexit secretary who once called feminists 'obnoxious bigots'
The resignation comes after it was previously reported that he referred to selling May's Brexit plan as "polishing a turd."
Johnson's resignation also follows that of Brexit Secretary David Davis and his No. 2 at the Department for Exiting the EU, Steve Baker. Rumors began swirling earlier on Monday that Johnson would be leaving his post, as he was holed up in his residence with his closest advisers, missing a scheduled appearance at the West Balkans summit. There were also reports that he missed a Cobra meeting about the Wiltshire 'Novichok' poisoning.
May's soft Brexit plan has led to a chaotic situation within the government, as her roadmap is a far cry from what pro-Brexit campaigners such as Johnson had initially pushed for.
Baker spoke to the BBC about his resignation on Monday, stating that he and other Conservatives were "blindsided" by May's policy.
"We were preparing a white paper which did not accord with what has been put to the Cabinet Chequers," he said, adding that "things have changed considerably this week and they've changed considerably in a way which I will not be able to represent as my own policy and therefore I can't be in the government."
May's plan has prompted many to call for the resignation of the prime minister, who herself opposed Britain's exit from the European Union. Some reports are even speculating about the possibility of a no-confidence vote regarding May's leadership of the Conservatives. However, any such vote would be contested by May, with her spokesperson stating on Monday that she would fight any attempt to oust her from her position.
After slamming May's plan on Sunday night, Davis said it would mean "giving too much away, too easily" to the EU, as Britain would still be made to abide by many of the bloc's regulations. However, he stated that he was not trying to force May out of power – even though she is pursuing a "dangerous strategy" in her talks with Brussels.
"Theresa May's premiership is over... the time has come that we need a Brexiteer prime minister," Conservative MP Andrea Jenkyns told BBC Radio 4's Today program on Monday.
Jeremy Corbyn, leader of the opposition Labour party, expressed his lack of confidence in May as well.
"How can anyone have faith in the prime minister getting a good deal with 27 EU governments when she can't even broker a deal in her own cabinet?" he asked.
Following Johnson's resignation, May said that the UK would not hold a referendum on the final deal to leave the EU, nor would it seek to delay its exit date from the bloc. Britain is currently set to leave the EU on March 29, 2019.
When asked about a possible challenge to her leadership, May said with a smile: "Nice try, but I'm getting on with the job of delivering what the British people want," Reuters reported.
Twitter erupted following news of Johnson's resignation, prompting responses from European Council President Donald Tusk and hardline Brexit campaigner Nigel Farage, among others. Even the sporting world poked fun at Johnson following news of his departure, particularly after his criticism of Russia hosting the World Cup. Former England footballer and current TV host Gary Lineker joked that Johnson had put in a "transfer request as his team hurtle towards inevitable relegation."
If you like this story, share it with a friend!
You can share this story on social media: