Tory cries of 'blackmail' as Rees-Mogg 'threatens' May over Brexit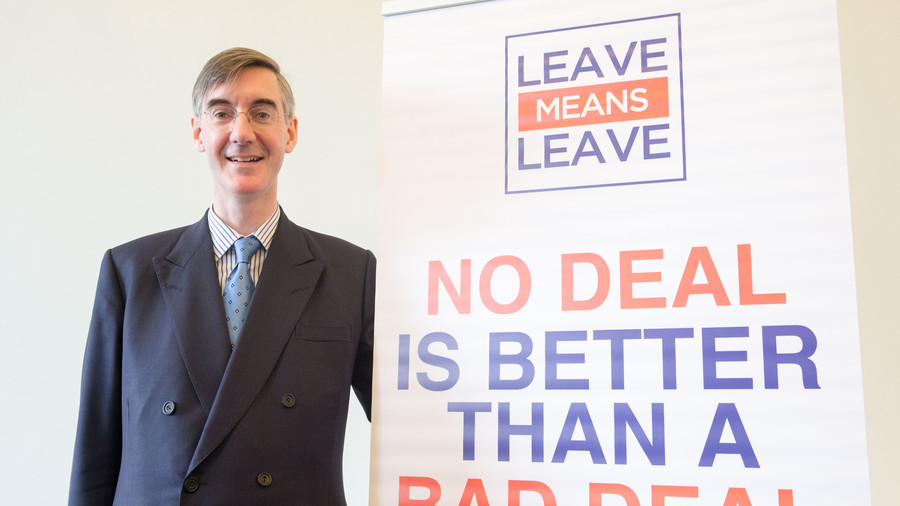 Tory backbencher Jacob Rees-Mogg has sparked a backlash from Conservative MPs who accuse him of 'blackmailing' Theresa May, after saying she risks splitting the party if she did not "deliver what she has said she would" on Brexit.
The influential Brexiteer has written a column for the Telegraph newspaper in which he appears to make a veiled threat to the Prime Minister. He insists May must "stand firm for what she herself has promised" and make a clean break from the EU on Brexit, otherwise he and other Tory Brexiteers would vote against any final EU Withdrawal Bill.
READ MORE: 'Don't put your citizens' at risk': May implores EU leaders to share security info post Brexit
Furthermore, the chair of the pro-leave European Research Group (ERG) warned that May could put the Conservatives out of office for years, just like another leader, Robert Peel. Peel, a Tory leader in the 1840s, went against his manifesto and the majority of the party by backing the abolition of punitive tariffs installed by the 'Corn Laws'.
Rees-Mogg's warnings to May over her standing firm on Brexit red lines outlined in the Conservative manifesto and subsequent speeches, caused anger among many Tory Remainers on social media.
Simon Hoare, MP for North Dorset, took to Twitter to tell Rees-Mogg: "The hectoring nonsense / blackmail has to stop, the reality of parliamentary arithmetic dawn and the calamity of a Corbyn Government woken up to." Adding: "Peel put country before party" in another tweet.
Hoare's tweet received support from a number of fellow Conservative Remainers, including Nick Boles, Nicky Morgan, Simon Hart, Bob Neill, Antoinette Sandbach and the former Cabinet Office minister Ben Gummer, one of the architects of the 2017 Tory manifesto, all retweeting his message. Nicholas Soames, grandson of WWII Prime Minister Winston Churchill tweeted: "A message for my old friend @Jacob_Rees_Mogg shut up."
A cabinet minister for the Foreign Office, Alan Duncan, responding to Hoare's tweet, accused Rees-Mogg of "lecturing and threatening the PM", telling him that he and his right wing friends should "pipe down."
Rees-Mogg warned the PM in no uncertain terms that "Any EU agreement that restricts the country's ability to make trade agreements with other states, restricts our ability to control our migration policy, makes us pay to trade or interferes with our fishing waters could not be accepted."
The Eton-educated Brexiteer adds that "many MPs would vote against such propositions if brought to Parliament."
The latest Tory infighting comes ahead of Theresa May assembling her cabinet this Friday at Chequers for critical Brexit discussions that will include a proposal for a third possible customs arrangement which follows the PM's long-favored "customs partnership" and the Brexiteers preferred highly-streamlined "maximum facilitation" option.
Think your friends would be interested? Share this story!