Israel using Prince William trip to conceal human rights abuses against Palestinians – campaigners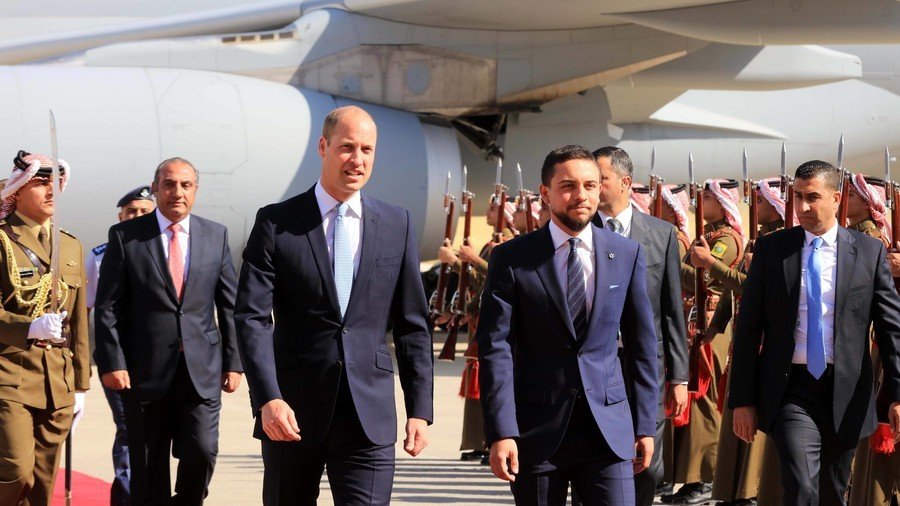 Prince William's visit to the Middle East "is being used by Israel to mask its human rights abuses against Palestinians," campaigners fear. The duke of Cambridge will land Israel later on Monday.
Palestine Solidarity Campaign (PSC) said the visit breaks with British Foreign Office policy that royal family members refrain from making official visits to Israel because of its "historic and grave violations of human rights, international law and UN resolutions."
Prince William is expected to meet Israeli Prime Minister Benjamin Netanyahu before he goes on to meet with Palestinian Authority President Mahmoud Abbas in Ramallah, in the Occupied West Bank, on Wednesday.
The visit coincides with the 70th anniversary of Israel's foundation and comes at a time of heightened tension between Israel and the Palestinian territories.
Israel Defence Forces (IDF) recently used live fire against largely unarmed Palestinian protesters in Gaza, killing 120 people and injuring 13,000, according to the Red Cross. Israel said it acted in self-defense against Hamas, the ruling party in Gaza which is considered a terrorist group in the EU and US.
"In the aftermath of the killings, Israel has continued to refuse demands for an independent investigation," a statement by PSC reads.
"This visit by Prince William reinforces the UK government's historic policy of turning a blind eye to gross violations of human rights when they are committed by the Israeli government.
"It is, therefore, crucial that all attempts to use this visit by Prince William to normalize Israel's continuous and systematic violations of human rights and humanitarian law are resisted. It is clear that the Israeli government will use the trip to achieve just that," the statement adds.
Israel's Jerusalem Affairs Minister recently expressed public outrage at a statement detailing the Prince's trip, which referred to East Jerusalem as part of the Occupied Palestinian territories.
Zeev Elkin wrote on Facebook: "It's regrettable that Britain chose to politicise the royal visit. Unified Jerusalem has been the capital of Israel for more than 3,000 years and no twisted wording of the official press release will change the reality. I'm expecting the prince's staff to fix this distortion."
East Jerusalem has been considered occupied territory under international law since 1967.
The Prince's trip comes after Campaign Against Arms Trade (CAAT) revealed the UK made record profits from licensing arms sales to Israel this year.
Defense contractors made at least £221 million ($294 million) last year from deals with Tel Aviv, a significant increase compared to £86 million ($114 million) in 2016, CAAT claims.
PSC stressed the need for the UK to condemn the recent Palestinian killings at the hands of Israeli military and call for an investigation.
"Palestine Solidarity Campaign continues to urge the UK government to end the bilateral arms trade with Israel; impose sanctions against Israel; and to apply meaningful pressure on Israel to end its unlawful occupation of the West Bank and East Jerusalem, its siege on Gaza, and its apartheid practices and policies against Palestinian citizens of Israel," the statement read.
Huda Ammori, from Palestine Action, told RT Prince William's visit should focus on Israel's "oppression" of the Palestinians and how the UK is supporting what she said is akin to an "apartheid."
"Despite Israel's continued impunity to violate international law and the basic principles of human rights, Britain has continued to arm Israel, sustaining Israel's regime which is mercilessly ethnically cleansing the Palestinian population and forbidding Palestinians of their basic human rights and their rights to freedom.
"An immediate two-way arms embargo between the UK and Israel is long over-due and diplomatic figures such as Prince William must urge immediate action.
"Immediate action must follow this trip as a result otherwise we are in the same predicament as before; where the UK continues to support a terrorist regime, at the misfortune and blood of the Palestinian population."
By Claire Gilbody-Dickerson, RT
If you like this story, share it with a friend!
You can share this story on social media: