Philip May and family profit from Trump's caging of children in detention centers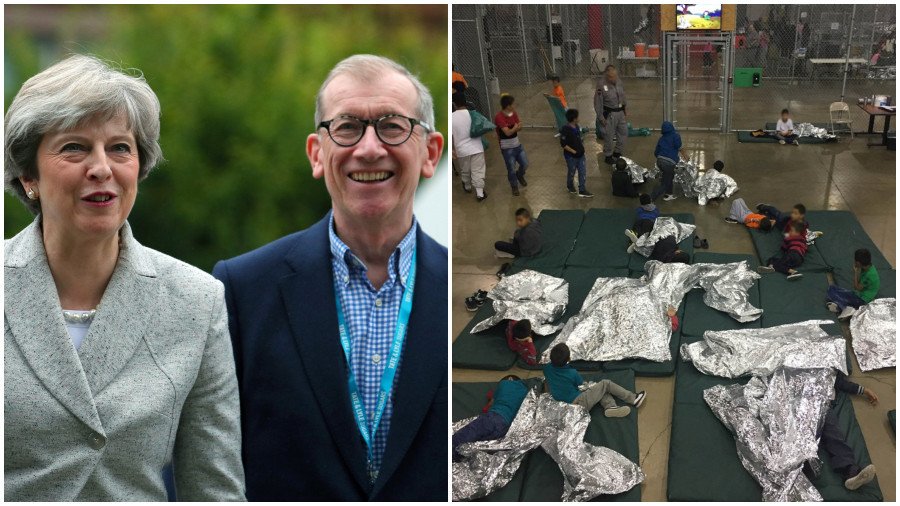 Capital Group, the company of UK PM's husband Philip May, profited from Donald Trump's caging of children in immigration detention centers. The centers are run by General Dynamics, which is partly owned by May's investment firm.
General Dynamics has been assisting the US Office of Refugee Resettlement in processing immigrant-children cases during President Trump's "zero tolerance" immigration policy. As many as 2,000 children are reported to have been separated from their parents in just six weeks under the controversial policy. A distressing audio clip of children sobbing went viral on social media.
A number of high-profile corporations have invested in 'defense' company, General Dynamics, which manufactures weapons. Philip May's Capital Group is one such corporation. Its Capital Research Global Investors (CRGI) owns just under $4 billion worth of shares in General Dynamics as of June 20, representing almost seven percent of the company.
Proceeds from the company holding children in detention centers will therefore have helped to finance Philip May's paycheck from his role as a relationship manager with Capital Group.
Theresa May's husband has worked in this role for the $1.4-trillion global research investment company since 2005, and is reportedly the Tory leader's "closest adviser," according to Business Insider.
It's not the first time that his company has been exposed as a major shareholder in controversial businesses. Back in April, RT reported that May's Capital Group was the largest shareholder in military arms manufacturer, BAE Systems, whose share price soared after airstrikes in Syria were carried out by Western coalition forces, including Britain.
It's also the second-largest shareholder in Lockheed Martin – a US military arms firm that supplies weapons systems, aircraft and logistical support. Its shares also rocketed after those missile strikes.
More recently, it was revealed that May's Capital Research Management Company, a subsidiary of Capital Group, holds a majority of shares in GW Pharmaceutical, which makes medicinal cannabis in the UK – an issue that recently hit the headlines after a 12-year-old boy who suffers from epileptic seizures had his cannabis oil confiscated.
Licenses have been granted to biotech firm GW Pharmaceutical to produce a medical cannabis product called Sativex, which can be prescribed for patients by doctors.
READ MORE: Philip May's Capital Group profits from British weed-growing op while patients denied access (VIDEO)
According to The Times, since gaining approval from the Medicines and Healthcare Products Regulatory Agency (MHRA) to sell Sativex – which retails at £125 ($167) per 10ml bottle – to the British market, GW in effect enjoys a monopoly on legal cannabis in the UK, while anyone caught using other forms of cannabis for medical purposes faces up to 14 years in prison.
Following an outcry from prominent US politicians and the public at large, Trump signed an executive order designed to end the forced separation of children from their families. However, there are fears the impulsive president may face certain hurdles in implementing the changes in practice.
Like this story? Share it with a friend!
You can share this story on social media: