UK 'complicit' in killing Palestinians by selling arms to Israel - War on Want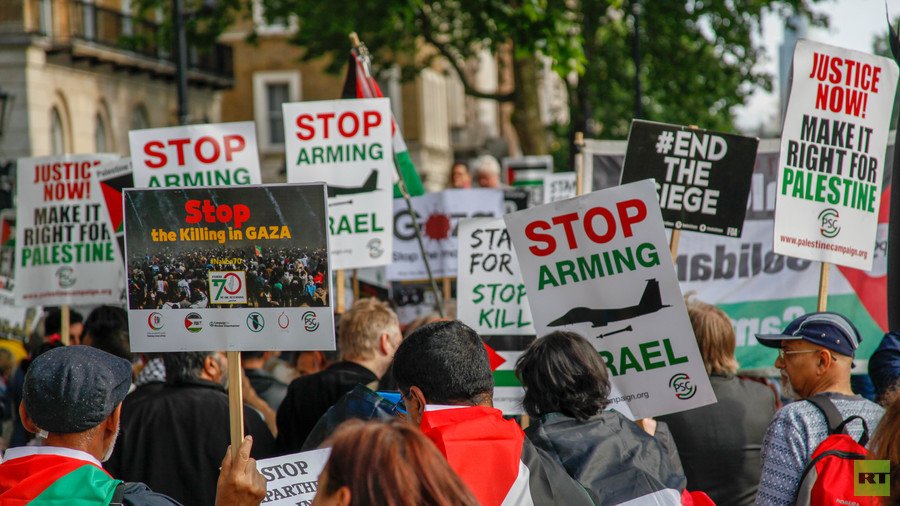 The UK is "complicit in the violence" committed by Israel against Palestinians by not halting its arms sales to Tel Aviv, War on Want has claimed. It comes after London voted against a UN resolution condemning the Gaza killings.
More than 120 Palestinians, taking part in the Great Return March which kicked off two months ago on the Gaza Strip, were killed by Israel Defence Forces (IDF), with thousands more injured.
Israel's use of live ammunition against the largely unarmed protestors earned widespread condemnation by international human rights organizations and accusations it violated international law as it targeted people posing no imminent threat.
The UK nonetheless failed to back a UN resolution which condemned Israel's "use of any excessive, disproportionate and indiscriminate force" against the demonstrators.
Ryvka Barnard, senior campaigns officer for War on Want, told The Independent: "In abstaining from this vote, the UK government has yet again refused to commit to the protection of Palestinians' human rights as they are targeted with the brutal and unlawful use of force by the Israeli military."
Despite the killings and multiple accusations that Israel is breaking international laws, in part due to the the blockade of Gaza, UK arms sales to Israel have reached a record high.
According to Campaign Against Arms Trade (CAAT) defense contractors made at least £221 million ($294 million) last year from deals with Tel Aviv, a significant increase compared to £86 million ($114 million) in 2016.
Barnard said: "But make no mistake, the UK is not sitting aside and remaining neutral. While the world calls for violent attacks on Palestinians to end, the UK government continues to approve arms exports to Israel, making it complicit in the violence."
The resolution at the UN General Assembly passed with 120 votes in favor, eight against and 45 abstentions.
Like this story? Share it with a friend!
You can share this story on social media: