'I felt lucky not to be stabbed': British Home Sec speaks of moped mugging attack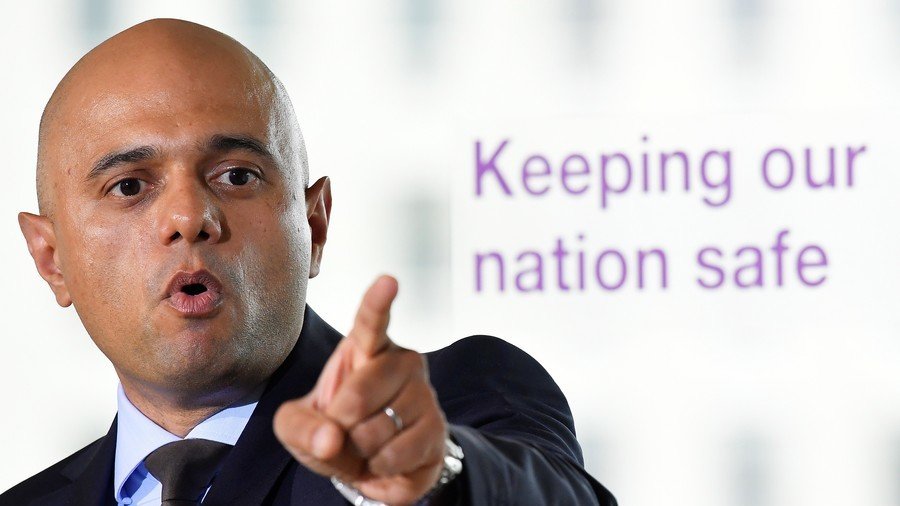 British Home Secretary Sajid Javid has revealed how he fell victim to a ruthless moped gang in London just months before he was tasked with cleaning up the country's street crime.
In the wake of a number of high profile attacks involving criminals on mopeds, the Conservative Party politician has spoken out about the time he was mugged by thieves outside a London train station.
"It happened in a flash. I was walking out of Euston station and reached for my phone to call a taxi. It was brand new. Before I knew what was happening, it had gone," Javid told The Sun on Sunday.
READ MORE: Private security firms patrolling London streets, prompts Met warning (VIDEO)
He expressed his relief at escaping from the incident, which occured while serving as Communities Secretary, relatively unscathed: "I was angry and upset but thought myself lucky not to have been stabbed or beaten up like many other victims who fall prey to those vicious criminals."
We're taking fresh action against street gangs using social media as a platform to incite violence, taunt each other & promote crime. Also want to see the big online platforms do more https://t.co/HANJkMpLtx

— Sajid Javid (@sajidjavid) June 17, 2018
Javid added that he is reviewing health and safety laws that prevent police in cars from giving chase to thieves escaping on mopeds.
Crimes involving mopeds or motorcycles have garnered a lot of media attention, following recent high profile deaths and muggings. Last week two teenagers were jailed for life for stabbing a youth worker to death during a four-hour spree of violence in a borough of London.
Nathan Gilmaney and Troy Thomas were found guilty of murdering Abdul Samad in October 2017, after they had pursued him on a moped in an attempt to snatch his phone. In an incident in June, comedian Michael McIntyre had a £15,000 ($19,900) watch taken from his wrist after two thieves on a moped cornered him as he left his car in Hampstead.
READ MORE: Four men stabbed in London's five-day knife frenzy, latest killed in broad daylight
The Metropolitan Police have issued a warning about moped crimes, telling people to be extra vigilant around train stations, shopping centers or concert venues.
"If you need to call or use your phone on the street, look out for anyone on a bike or a moped near you," the police guideline states. "Going hands-free can prevent a thief from snatching your phone out of your hand."
Think your friends would be interested? Share this story!
You can share this story on social media: