Ex-England striker Gary Lineker's refusal to indulge in Russophobia enrages Daily Mail columnist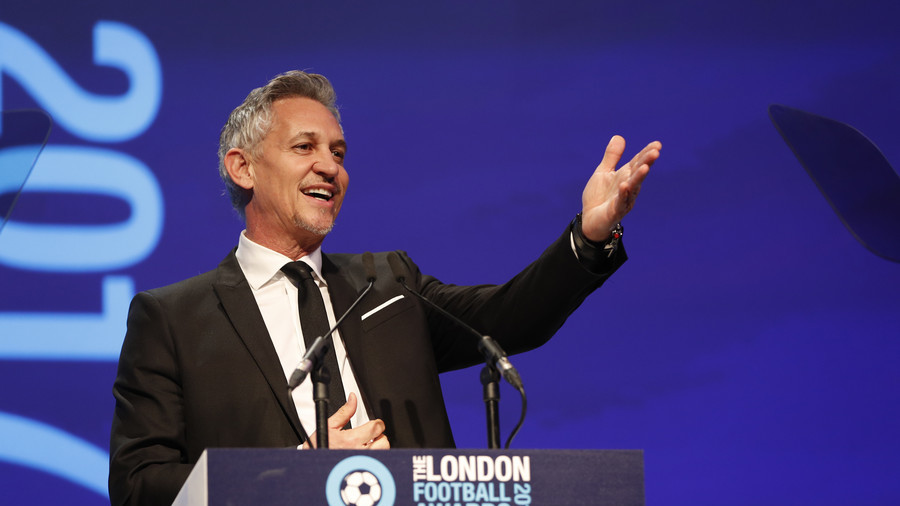 Former England striker turned TV pundit Gary Lineker's refusal to join in the Russia bashing ahead of the World Cup has provoked Daily Mail columnist Dominic Sandbrook into a now familiar display of ignorance and rage.
Lineker is a much-loved figure among England fans, having scored more World Cup finals goals than any other English player. He became a television presenter after retiring, and has become known as a 'liberal voice' on Twitter.
The former striker was speaking to the Radio Times magazine about criticism surrounding the upcoming World Cup, and gave a view that probably wouldn't have seemed controversial if he wasn't talking about Russia.
"Who are we to start getting judgmental on who should have the World Cup? We all know how corrupt our country is at times. Perhaps we don't like some things that [Russian president] Putin has done, but we'll be there, we'll be their guests," he said.
His display of rational thought and common sense based on the experience of having actually been to Russia continued: "I don't know what [violence] you're expecting to kick off. Well, nothing will. Because it never does, it'll be fine. It'll be great. What governments do is another matter, but the people of Russia have actually been very welcoming."
These views are not particularly extreme if you think about it. They just say Russian people are welcoming, he doesn't expect trouble, and he doesn't think politics should affect sport. Lineker himself points out on Twitter that he makes absolutely no defense of the Russian government.
However, for Mail columnist Dominic Sandbrook, who has to produce a regular page of bile to justify his salary (you have to assume he gets paid for this stuff), this was all too much and he attacked one of England's most celebrated goal scorers.
As predicted yet another hatchet job from the lovely agenda driven Daily Mail. I've never uttered a word in support of Putin and never would. It's absurd to suggest otherwise. Also, I love my country and representing England at 2 World Cups filled me with pride. Night all.

— Gary Lineker (@GaryLineker) June 6, 2018
Sandbrook's column labels Lineker a 'useful idiot,' the classic cliche used by ill-informed Russophobes in the process of jumping on the bandwagon. If Sandbrook's assessment has any truth, one might suggest that the only difference between him and Lineker, is that at least the former England striker is 'useful'.
So Sandbrook believes: "We in Britain have every right to be judgmental" because, wait for it, "Quite apart from the fact that we invented the game, we have the good fortune to live in one of the world's least corrupt countries."
Eagle-eyed readers will note that the first part of the sentence about inventing 'the game' makes absolutely no sense in the context of the argument. They may also notice that the second part of the sentence about being "in one of the world's least corrupt countries" doesn't attempt to address what Britain is itself accused of elsewhere.
For example the Daily Mail itself (yep, Sandbrook's own paper) has labelled London a "laundromat" for dirty money coming from Russia, and quoted one anti-corruption campaigner as saying "London is the most corrupt place on Earth." So, you see, it's a complicated situation, which is probably why Lineker suggested it's probably better just to play football, accept the hospitality of ordinary people and not be too judgmental.
Sandbrook goes on, regurgitating every accusation against Russia he can find on Google, to make up the word count of his column, presumably with a deadline looming. He accuses the former England captain of having "relentlessly fired out opinions on everything from Brexit (anti) to Donald Trump (anti) to millions of followers."
That accusation comes from a man who has been paid to write columns on the Royal Wedding, the Open University, Jeremy Corbyn, the railways and Germany being obsessed with the war this month alone! So who's firing out opinions?
Sandbrook says of Lineker: "At the very least there is surely something absurd about a man whose wages are paid by people's TV licence fees telling us 'how corrupt our country is." You can read that sentence as many times as you like, it still won't make sense.
For our sake, and his sake, you have to assume Sandbrook doesn't believe everything he writes, but his ignorant invective is published in Britain's third most-read daily newspaper and helps to form opinions. The likes of Sandbrook serve to create an environment where just pointing out that Russia is full of people getting on with their lives and who like to watch football, can become the subject of a hate-filled column.
I live in Moscow. I work in Moscow. The article in question is misinformed, ignorant and, put simply, an exercise in creating the propaganda it claims to dislike. Russia is full of people living their lives. That's all.

— Dean Moore (@DeanMoo41148127) June 6, 2018
The end of Sandbrook's polemic comes dangerously close to questionable legal territory. He insinuates Lineker may only be saying non-hate filled things about Russia because he was paid to present the World Cup draw in Moscow last year. So who is the one expressing dangerous opinions here, really?
Like this story? Share it with a friend!