Were Russian hackers to blame for grounding 4 UK-bound all-weather jets? No – it was bad weather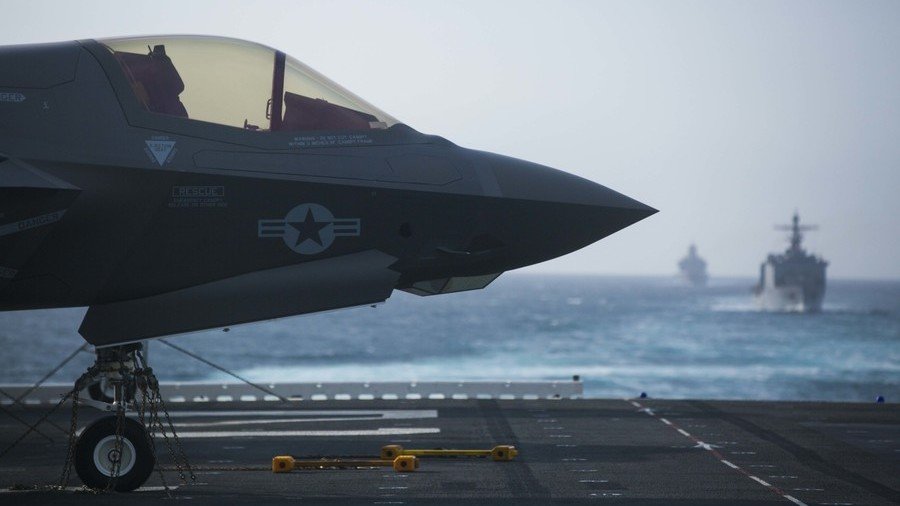 Bad weather is the reason why four "all-weather" fighter jets bound for the UK defense force were left stranded in the US. The grounding of the £600 million ($805 million) fleet has been dubbed "pathetic" by military insiders.
Kept at an air base in South Carolina thanks to storms and rough seas, Britain's newest and most expensive fast jets, the F-35 Lightning II warplanes, were bound for RAF Marham in Norfolk. Defense sources have slammed the "embarrassing" no-show, as the Ministry of Defense officially confirmed that "adverse weather conditions" was the cause for delay.
"How pathetic," one defense source said. "It is bonkers… embarrassing," said a second source said. "Not sure why weather should delay an all-weather fighter."
It is understood that the Royal Air Force was unable to meet a safety requirement allowing it to divert jets to other airfields en route in the case of an emergency. Rough conditions in the Atlantic Ocean also meant that the RAF could not guarantee that a pilot would be rescued if they were forced to eject from the fighter plane.
Two defense sources told The Times that the Royal Navy's Fleet Air Arm – which operates the currently grounded F-35s – did not typically require such stringent regulations regarding diversionary airfields. The sources said that pilots could not afford such a luxury when flying off an aircraft carrier at sea. One defense source blamed the delay on the fact that the fighter jets have only a single engine, unlike the RAF's Eurofighter Typhoon.

"This is the problem with single-engine aircraft flying across the Atlantic," the source said. "For half the price, you get twice the engines with Typhoon, making it safer to fly across open ocean."

An RAF source, however, defended the postponement of the jets' delivery. This was not an operational mission, so strict safety rules had to be applied, he said. A rescheduled flight could take place this afternoon.
READ MORE: More F-35s vs the Eurofighter: MoD decisions as funding gap row grows
A spokesperson for the RAF insisted that the all-weather jets can fly in all types of weather, but they just decided not to. "Our F-35s are ahead of schedule and can fly in all weather conditions when they need to. Flying these aircraft to the UK is subject to normal peacetime weather decisions and, with there being no rush, we are simply considering flight safety by waiting for better conditions."
Think your friends would be interested? Share this story!
You can share this story on social media: