Tory MP with alleged history of Islamophobia found to have been a member of racist Facebook groups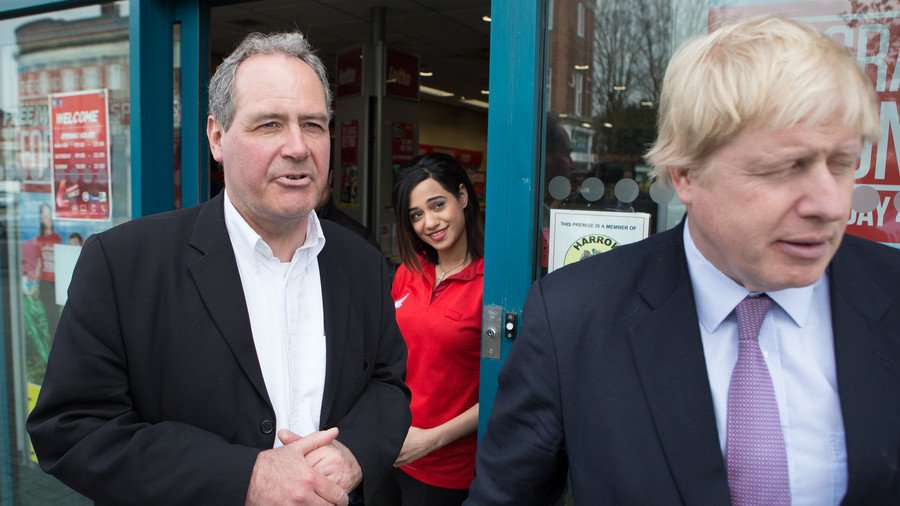 Bob Blackman, Tory MP for Harrow East, who has repeatedly been accused of endorsing Islamophobia, has now been found to have been a member of several racist Facebook groups, according to Vice News.
The joint-secretary and an executive member of the 1922 Committee, who dictate the hiring and firing of Tory leaders, is said to have been a member of far-right Facebook groups "Britain for the British", "For Britain Political Party" and "Pendragons Fight Back." According to Vice, the MP left the groups after they got in contact with him.
"Britain for the British" is a group administered by far-right BNP supporter Steven Devlin that has featured several offensive comments, including honoring Adolf Hitler, and death threats toward Muslim Mayor of London Sadiq Khan.
READ MORE: 'Simmering underbelly of Islamophobia' in Tory party, says Muslim Council
"For Britain Political Party" describes itself as a group for "supporters and members of Anne Marie Waters party For Britain". Waters is a co-founder of Pegida UK and was a far-right candidate in UKIP's recent leadership elections. After failing to become UKIP leader, she started the 'For Britain' political party. Blackman was not a member of the official Facebook group.
Here's a snapshot of comments from the group in relation to an article on the subject of Sadiq Khan, warning technology companies that he would impose fines and stricter regulations on those that were not seen to be taking the issue of hate speech seriously enough.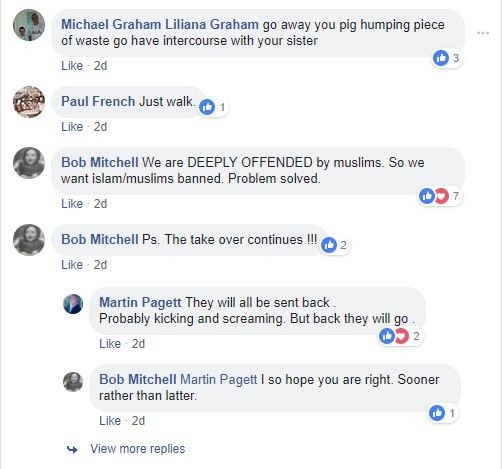 Blackman was also a part of "Pendragons Fight Back." In keeping with the theme, the group features far-right Islamophobic. Some members of the group are said to have celebrated when activists known as "The White Pendragons" took gallows to a Fabian Society (British socialist organization) event and tried to "citizens' arrest" Sadiq Khan.
This is the latest controversy Blackman has been involved in, adding to a long history of accusations that he indulges in Islamophobia.
In February of 2016, Blackman retweeted a post by ex-EDL leader Tommy Robinson containing an anti-Islam message and a link to an article about Muslim violence against Hindus. Blackman tried to defend his action, telling the Times, "This was retweeted in error. I condemn the views of Tommy Robinson and the English Defence League."
However, according to Miqdaad Versi, spokesperson for Muslim Council of Britain (MCB), Blackman had still not rectified his "error" 3 weeks later.
Extraordinary: 3 weeks after Bob Blackman claimed his re-tweet of an anti-Islam message by right-wing extremist Tommy Robinson, was "in error", he *still* has not undone his RT pic.twitter.com/idsGSSmriV

— Miqdaad Versi (@miqdaad) November 17, 2017
In October of 2017, Blackman twice hosted controversial Indian Hindu nationalist, Tapan Ghosh in parliament. Ghosh has accused all Muslims of being jihadis, endorsed the persecution of Rohingya Muslims and has appeared on Tommy Robinson's YouTube channel.
He is also said to have told his Twitter followers that "1 million white English children may have been the victims of Muslim rape gangs". His Twitter account has been suspended.
In March of 2018, Blackman shared an article titled: "Muslim Somali sex gang say raping white British children 'part of their culture'," from a US anti-Muslim website.
READ MORE: From racism accusations to botched leaflets – the many FAILS of the Tories' latest election campaign
Responding to Vice's revelations Blackman insisted: "I was completely unaware I had been added to these groups, I never participated in them and immediately removed myself from them when I became aware I had been added without my knowledge or permission.
"I would never have knowingly joined such groups and I condemn their views."
According to Peter Oborne, the associate editor of The Spectator, both Theresa May and former Tory Party chairman Patrick McLoughlin have been warned about Blackman's attitude towards Muslims by at least one senior Tory.
The Conservative Party has so far taken no disciplinary action against Blackman.
Like this story? Share it with a friend!
You can share this story on social media: