Labour Friends of Israel slammed for visiting country after recent killings of Palestinians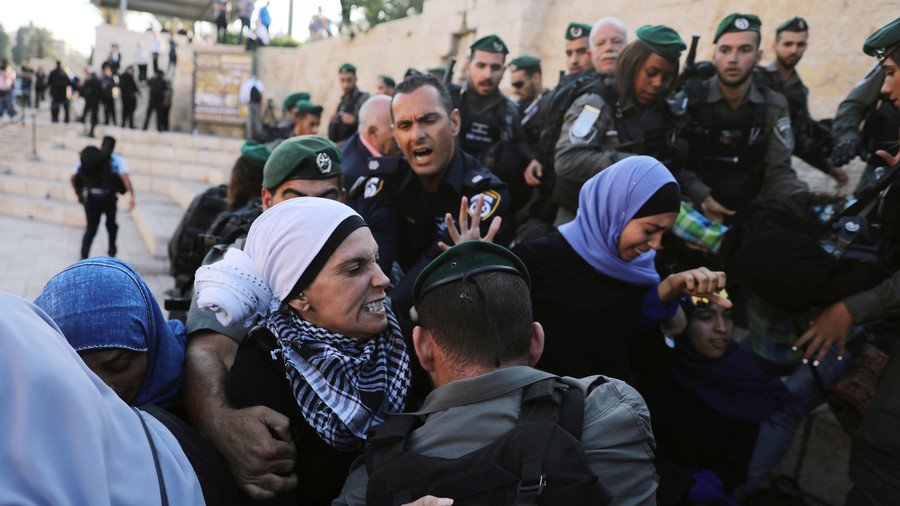 Labour Friends of Israel (LFI) have been heavily criticized for promoting their latest trip to Israel with a series of pictures on social media, just weeks after the 'massacre' of Palestinian protesters by Israeli Defense Forces.
LFI are currently in Israel to "promote bilateral ties and meet politicians", according to Britain's Jewish News. They've been marking their trip with a series of smiley photos and meetings with Israel's Labor party, much to the dismay of many of those on Twitter who are outraged at Israeli military action against civilians.
Their first tweet said: "We're in Israel this week for a parliamentary delegation - here's the group in Jerusalem this morning."
One LFI tweet pictured a meeting with Israeli Labor leader Avi Gabbay. He recently wrote to Jeremy Corbyn to notify him of his party's severing of ties with the Labour leader in response to the "crisis" of anti-Semitism in the UK party. It would appear these LFI members are in Gabbay's good books.
This afternoon we met with @GabbayAvi - leader of our sister party, @HavodaParty/Israeli Labor. Thank you for a great discussion about British and Israeli politics - we wish you the best of luck! pic.twitter.com/hMs0xRtpkk

— LFI (@_LFI) May 30, 2018
From just under 100 supporters and select officers, only 7 Labour members of LFI made the trip to Israel. They include MPs Andrew Gwynne, Labour's National Co-ordinator, LFI chair Joan Ryan, who was the subject of an Al-Jazeera undercover investigation into links between Israeli diplomats and the LFI, as well as MPs Sharon Hodgson, Louise Ellman and Jonathan Reynolds.
The LFI came under fire for declaring that "Hamas must accept responsibility" for scores of Palestinians being killed in mid May, during demonstrations to mark 70 years since Nakba "the catastrophe".
I'm ashamed, MPs from my own party! UK already abstained on vote for investigation in the UN & WHO into recent Gaza atrocities. HOPE you are there to admonish not just smile at the apartheid government which many Israeli's abhor as does any decent thinking person of Jewish faith

— Redcountessa (@Redcountessa) May 29, 2018
Smiling in Israel whilst the IDF murders Palestinians for protesting. Smiling in Israel whilst Netanyahu bombs, gasses and starves Gaza. @UKLabour when will we distance ourselves from @_LFI? These people shame us. #JusticeForPalestine

— Sue McCormick (@LadyBrainSueMcC) May 29, 2018
While Israeli forces continue their massacre of Palestinians in Gaza, shameless Labour Friends of Israel (LFI) launch a publicity stunt in Jerusalem LFI was recently condemned over its woeful response to Israel's massacre of Palestinians in Gaza https://t.co/44Q4A8nQu0

— Socialist Voice (@SocialistVoice) May 29, 2018
Words fail me too, or ones that are repeatable. If they had any sense of decency, they would have terminated their LFI membership, not have participated in an LFI funded trip, and certainly not posed for tourist pics. Utterly shameful! #Gaza

— Nicola James 💚 (@NAJ562) May 29, 2018
In a tweet that was subsequently deleted, LFI responded to the killing of more than 60, including 6 children and the injuring of some 2,500 Palestinians by stating: "Tragic events on the Gazan border; all civilian deaths are regrettable. Hamas must accept responsibility for these events. Their successful attempt to hijack peaceful protest as cover to attack Israeli border communities must be condemned by all who seek peace in the Middle East."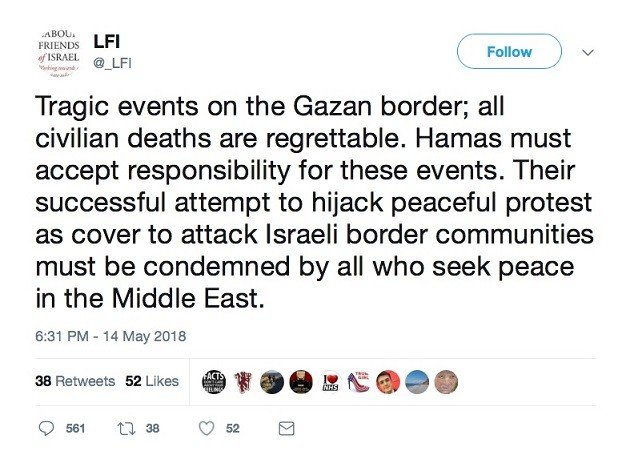 The widely-condemned statement has reportedly led to a number of Labour MPs disassociating themselves from the group, including Tulip Siddiq and Catherine West, who requested being removed from LFI's supporters list, according to media outlet, Skwawkbox.
Like this story? Share it with a friend!
You can share this story on social media: