'I wasn't thinking about being brave': Malian 'Spiderman' talks about rescuing 4yo in Paris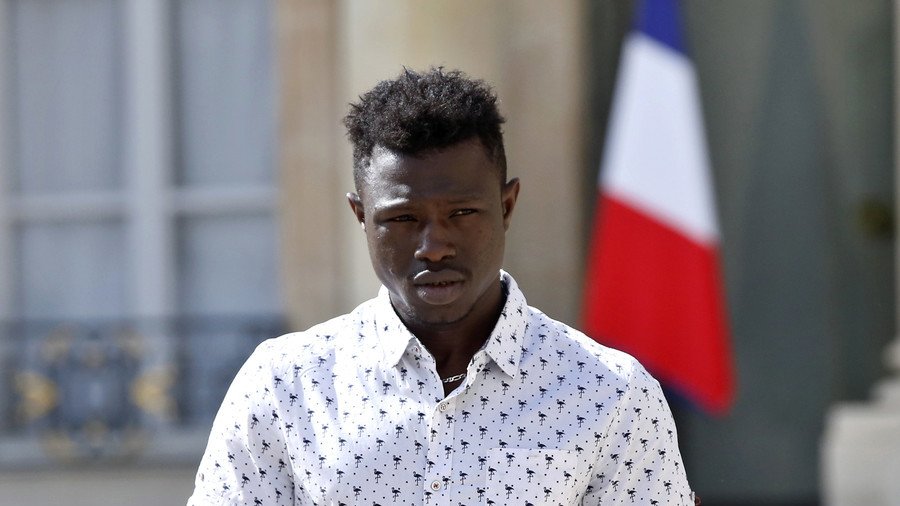 A Malian immigrant-turned-hero said he didn't think about being brave or failing while climbing four stories to save a four-year-old boy who was hanging from a balcony in Paris. His only concern was for the child, he said.
Mamoudou Gassama captured the spotlight after a video emerged online showing him rescuing a four-year-old boy. The Malian, who was an undocumented migrant in Paris, immediately sprang into action when he saw the distressed child, effortlessly scaling the balconies. As soon as he reached the top, he grabbed the boy with one hand and pulled him to safety.
Gassama told France 24 that he was with his girlfriend when he saw a child on the fourth floor hanging from a balcony. "I wasn't thinking about being brave. I just did what I had to do. I had to save him," he said.
When the 22-year-old started climbing, it gave him "more courage" as he went up, recalled the man who has already been dubbed the "Parisian Spiderman" on social media. Gassama said he never thought about failure: "I thought I would be able to help him. That's all!" After the rescue that took place in front of horrified onlookers, he admitted that he was overwhelmed by shock.
President Emmanuel Macron met the young hero on Monday and offered him citizenship, saying that France needs such acts of heroism every day. "The fire brigade of Paris is ready to welcome him," the French leader wrote on Twitter.
Think your friends would be interested? Share this story!
You can share this story on social media: