Illegal immigrant dubbed 'Parisian Spiderman' to get honorary French citizenship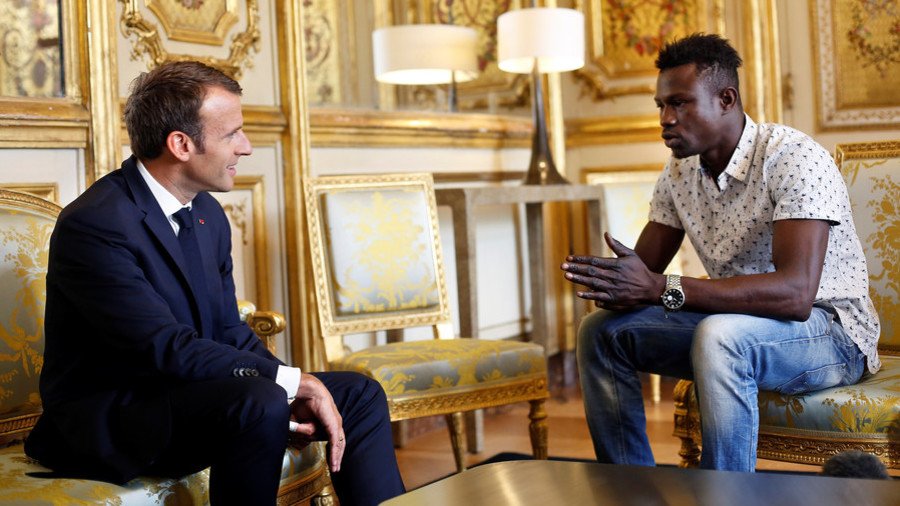 An undocumented immigrant is to receive honorary French citizenship after a jaw-dropping video emerged online showing him climb four stories to save a child who was hanging from the balcony of a Paris apartment bloc.
Mamoudou Gassama, 22, was dubbed the 'Parisian Spiderman' after he scaled the facade of the building in the city's 18th arrondissement. A four-year-old child, reportedly left alone in the apartment when the tot's father went shopping, was hanging from the balcony railing outside.
While it isn't clear how the child managed to get into such a predicament, the video shows the fearless Gassama springing into action, climbing the balconies seemingly without effort. Once at the top, he grabs the child with one arm and pulls the child to safety.
READ MORE: World's most 'inconvenient' convenience store caters for Chinese climbers 100m above ground (VIDEO)
The video has sparked a huge reaction online, with many signing a petition for the Malian immigrant to be granted French citizenship. Writing on Twitter, Paris Mayor Anne Hidalgo paid tribute to Gassama's bravery, saying that his "heroic gesture is an example of all citizens." The politician added that the city of Paris is "committed" to helping the undocumented immigrant establish himself in France. Gassama was offered honorary citizenship during a meeting with French President Emmanuel Macron at the Elysee Palace on Monday morning.
READ MORE: Families of Malian military hostages allegedly killed in French airstrike still seek answers (VIDEO)
Social media users were effusive in their praise of Gassama.
This man is Mamoudou Gassama, an immigrant from Mali who had only arrived in Paris a few months ago. He didn't hesitate for a second to risk his life to save this child. https://t.co/Ddv5TuwCdy

— Matthew Kane Parker (@moonmaster9000) May 27, 2018
According to La Parisien, the father appeared in a Paris court Sunday evening. It is expected that he will face a criminal trial later this year on charges of "subtraction from parental responsibility." If convicted, the man could face two years in prison and a fine of €30,000. The child has since been placed in state care.
Think your friends would be interested? Share this story!
You can share this story on social media: