Jailed for being homeless: How councils across Britain are targeting the UK's most vulnerable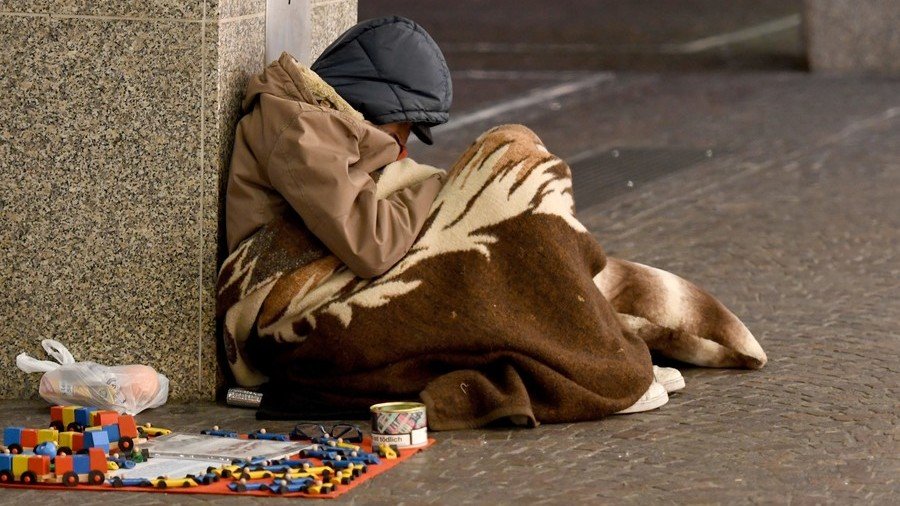 Fined, jailed, and convicted – the UK's homeless are facing serious criminal consequences as councils use public space protection orders (PSPOs), introduced by Theresa May, to target those sleeping rough.
Homeless people are finding themselves banned from town centers, routinely fined hundreds of pounds, or even sent to prison if they're caught repeatedly begging thanks to the PSPO laws, wielded by local authorities across England and Wales. Since local councils were given more power to combat antisocial behavior by then Home Secretary Theresa May in 2014, hundreds of fines have been issued and criminal convictions have been pursued for those caught "begging" or "loitering."
Some charities have said the strengthened powers are designed to target those sleeping on the streets. Campaigners also say that bans on drinking booze and swearing in town centers are also being used to target the homeless, but councils insist that the strengthened laws are only being used to target antisocial behavior.
In one case, a judge admitted: "I will be sending a man to prison for asking for food when he was hungry." The defendant in that case was jailed for four months for breaching a criminal behavior order (CBO) in Gloucester for begging. Another man was fined a whopping £105 ($140) after a child dropped £2 ($2.70) in his sleeping bag.
Local councils can now use a range of tools to crack down on begging, though PSPOs seem to be the preferred weapon of choice against Britain's homeless. Breaching a PSPO can lead to a £100 ($134) fine, however, offenders face a summary conviction or sometimes even a CBO – banning an individual from future begging and a fine of up to £1,000 ($1,340) if they fail to pay. If the fine can't be paid, offenders can spend up to five years in prison as a result.
Freedom of Information (FoI) requests obtained as part of an investigation carried out by The Guardian indicate that at least 51 people have been convicted of breaching a PSPO for begging or loitering and failing to pay the fine since 2014.
Lawyer for human rights group Liberty, Rosie Brighouse, said that they "warned from the start that PSPOs were far too broad and ripe for misuse by over-zealous councils wanting to sweep inconveniences off their streets."
"Now we see dozens of local authorities using them to target marginalized groups and fine people for being poor. This approach just pushes people into debt or the criminal justice system," she added.
May introduced PSPOs in 2014 to restrict how a particular area could be used.
Kettering Borough Council, which hailed what they believed to be "the most criminal behavior orders issued at once on the back of convictions" for begging after they took 10 people to court for breaching PSPOs in May 2017, said: "The PSPO is used to address antisocial behaviors in the town center. During the course of their work, if our staff identify individuals in need of support, they refer people to the appropriate agencies for help. The council is very proactive in this regard."
Some charities have called on the government to scrap PSPOs entirely, arguing that they are an example of abuse of power and do not help take people off the streets; instead pushing them further into debt and the criminal justice system.
Manifesto Club Director Josie Appleton, who campaigns against hyper-regulation of everyday life, said that it is "a travesty that people who most need our help are being treated like they are scum... how do you treat the poor? The fact they are being seen as a messy thing is grotesque inhumanity and lots of places with these orders in place have faced huge public outcry to the orders."
A Home Office spokesperson insisted that the government is "clear that PSPOs should be used proportionately to tackle antisocial behavior, and not to target specific groups or the most vulnerable in our communities."
"We set this out clearly when, in December last year, we refreshed the statutory guidance for frontline professionals on the use of the antisocial behavior powers," the spokesperson said. "It is for local agencies to determine whether their use of the powers is appropriate, and that they are meeting the legal tests set out in the legislation. The government is committed to tackling and reducing homelessness and to offer support to the most vulnerable in our society."
Think your friends would be interested? Share this story!
You can share this story on social media: