Cheap shot? BBC takes aim at Trump with royal wedding crowd-size tweet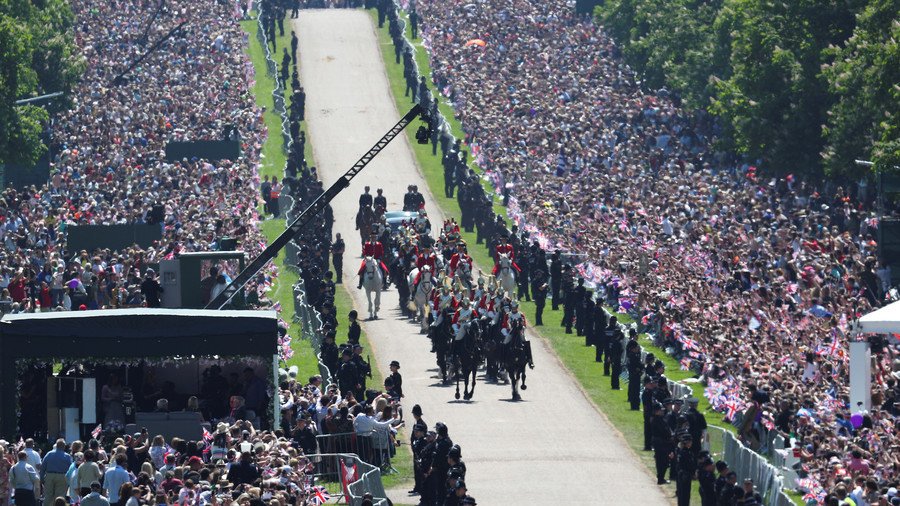 Amid the royal wedding brouhaha, the BBC couldn't help but celebrate the marriage of the UK's most popular prince by trolling one of the world's most divisive politicians – US President Donald Trump.
READ MORE: Royal wedding: Forget the dysfunctional Markle family, it's the Windsors Meghan needs to worry about
The BBC Three Twitter account satirized the president by posting side-by-side images of his inauguration – falsely referred to at the time as the largest crowd to ever witness an inauguration – and the crowds lining the long walk to Windsor Castle, the venue for Prince Harry and Meghan Markle's nuptials.
The claim over the crowd size was made in January 2017 by then-White House Press Secretary Sean Spicer. The Trump aide accused the press of "deliberately false reporting" over attendance figures at the president's inauguration and said the media outlets had intentionally framed their photographs to minimize its size.
READ MORE: Sean Spicer's 100-day rollercoaster: From 'Russian dressing' to 'Holocaust denial'
Seeing as he was not tagged in the post, it's doubtful Trump will ever see the comparison. But the notoriously thin-skinned man in the Oval Office is unlikely to see the funny side if he does spot the tweet.
Think your friends would be interested? Share this story!
You can share this story on social media: