Police warn English fans - don't instigate violence by waving St George's flag at World Cup (VIDEO)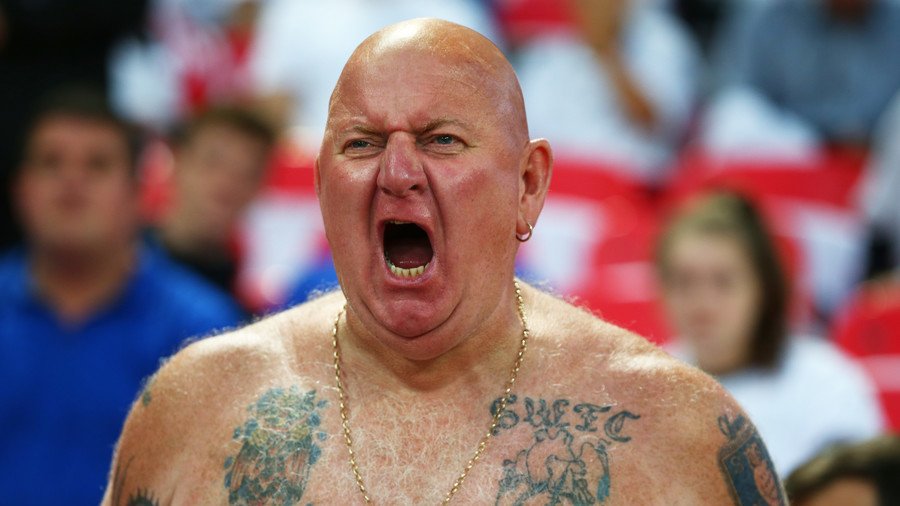 English football fans should not wave the St George's flag during next month's World Cup, British police have warned. The head of football policing warned the flag can be "antagonistic" and could lead to violence.
Deputy Chief Constable Mark Roberts, of the National Police Chiefs' Council said that "people need to be really careful with flags. It can come across as almost imperialistic . . . and can cause antagonism," he said. "We really urge some caution about people putting flags out and waving them about in public, there is a bit of risk when people draw attention to themselves and people need to be aware of that."
Roberts will lead a team of police to Russia to work with local Russian police and security services to protect up to 10,000 Britons expected to travel to Russia to support their team. The supporters traditionally gather in city centres before international tournaments and display hundreds of flags - but police are warning them to be sensitive about how they go about showing their national pride.
"We would not expect people to come across to this country, get drunk and drape flags on the Cenotaph so we need to extend the same courtesy when we go abroad and treat places with due reverence," Roberts said.
Football Supporters' Federation chief executive Kevin Miles hit back at Robert's comments, arguing that English football fans should be allowed to hang flags in bars whose owners had taken their money. He pointed out that most British football fans were seasoned travellers.
"Some of them have particularly strong opinions about how people in Britain should adopt to our way of life and the corollary of that when we go somewhere else then you have to respect their culture," he said.
English fans have been told be on their best behaviour in Volgograd - formerly Stalingrad. The Russian city will host England's opening game against Tunisia, but is also city of significant importance to the Russian people. The battle of Stalingrad saw 1.1 million Russian soldiers killed, wounded, or captured during the Second World War. As a result, the city is home to a number of important war memorials.
British Police have already taken measures to ensure British football fans are on their best behaviour, banning 1,751 English football hooligans from travel during the World Cup that are deemed to be a "high risk". Police have warned that hooliganism in Russia can lead to five years imprisonment, and those found guilty of "mass disorder" could wind up in the slammer for up to 15 years.
Deputy Chief Constable Roberts said that England's "appalling" behaviour by football fans before a friendly match against Holland in Amsterdam in March - witnessed by Russian police - had been "incredibly unhelpful" to assurances that supporters would behave themselves during the World Cup.
The flag of St George is sure to add to the already high levels of tension between British and Russian football fans, after mass fights between the two broke out in Marseilles during the European Championship in 2016. Roberts, who led the British police operation in France in 2016, said that police and authorities in Moscow had given their own assurances that they would tackle Russian hooligan groups like those who took part in the Marseilles riot.
Think your friends would be interested? Share this story!
You can share this story on social media: