Brexit deadlock: May-Mogg clash over Irish border as EU left scratching head over lack of progress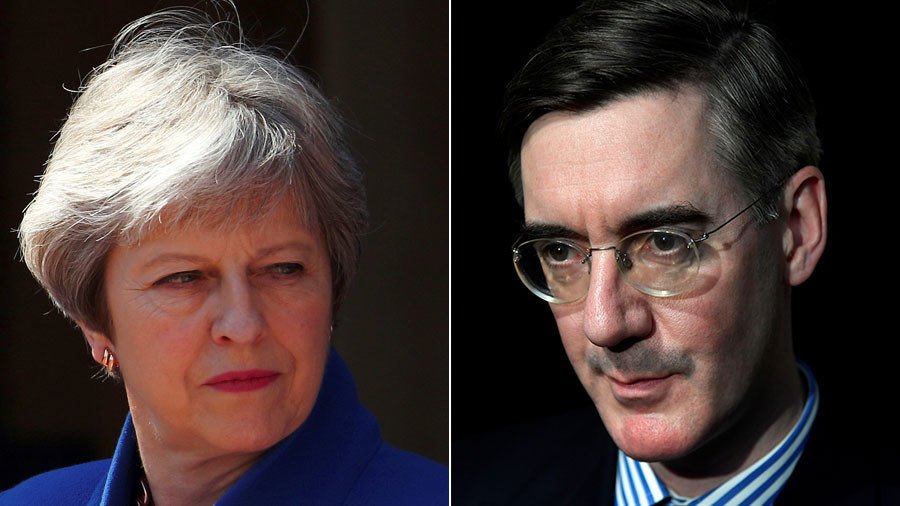 Theresa May and Jacob Rees-Mogg have clashed over the fate of the Irish border as the Cabinet's Brexit deadlock continues, leaving the EU to bemoan the lack of progress in leave negotiations.
Witnesses said that the Prime Minister was "sending a tough signal" to hardline Brexiteers that she was not prepared to jeopardize the Union, according to the Times.
The May-Mogg showdown came after the PM went over the heads of her bickering Cabinet, inviting all 315 Conservative MPs to attend Downing Street briefings on the rival customs union options to help settle the matter that has divided her team.
The clash occurred, according to three sources, after arch-Brexiteer Rees-Mogg suggested that Britain should keep the border open after Brexit. The PM hit back, suggesting that EU rules would oblige Ireland to construct border infrastructure to protect the single market. The PM also warned against anything that might anger nationalists in Northern Ireland.
"Jacob said, 'If there was a border poll, I have no doubt we would win, as the UK did in Scotland [in the 2014 independence referendum]'," a source told the Times. "Mrs May said, 'I would not be as confident as you. That's not a risk I'm prepared to take. We cannot be confident on the politics of that situation, on how it plays out.' "
"She slapped him down very hard," said another Tory MP who was also present. "Everyone thinks he knows what he's on about but she got him on facts. She was absolutely firm and passionate about the Irish position. I got a sense she realizes what really matters."
The May-Mogg row came as other members of the bloc met in Brussels to discuss how Brexit negotiations have failed to progress. According to the EU, no significant progress has been made since March on any of the main Brexit issues in negotiations between the EU and UK.
EU27 ministers met on Monday with Michel Barnier - the EU's chief negotiator - to discuss the progress of Brexit talks. "Mr Barnier informed us that since 23 March no significant progress has been made on the three pillars that we work on: withdrawal, future framework, and Ireland," Ekaterina Zakharieva, the Bulgarian foreign minister chairing the council, told reporters at an official press conference after the meeting.
At a separate event in Brussels on Monday, Barnier said that full talks on the future relationship had not even started in earnest despite getting the green light at a summit in March. "There is still a lot of uncertainty. Negotiations on the future with the UK have not started yet. We have had first exploratory discussions," he said.
Like this story? Share it with a friend!
You can share this story on social media: