Anti-frackers branded 'domestic extremists' like jihadists & Neo-Nazis in Prevent program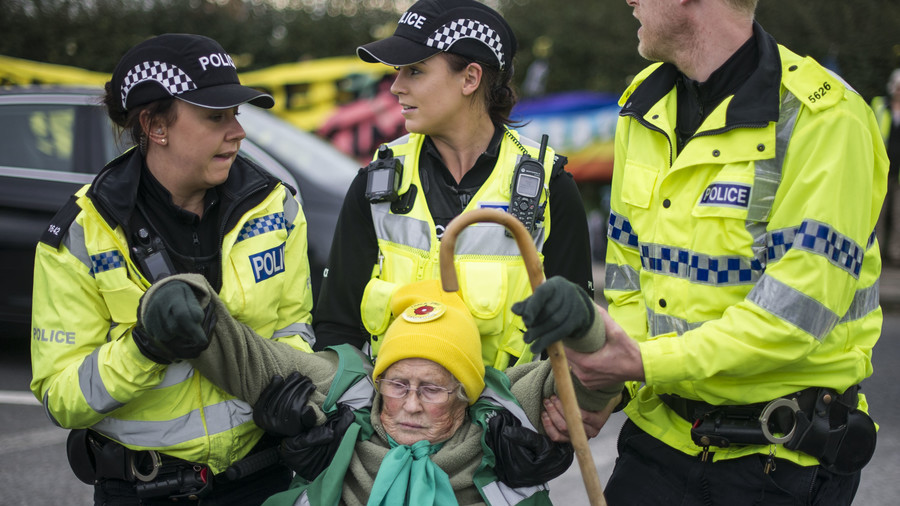 After a two-year legal battle, suspicions have been confirmed that sections of the British police are targeting anti-fracking campaigners under the counter-terrorism 'Prevent' program.
The Network for Police Monitoring (NETPOL) announced Wednesday that after two years of a legal battle, the Home Office finally handed over the sought-after training materials used by counter-terrorism officers in its 'Prevent' strategy.
Materials released covered slides from Workshop to Raise Awareness of Prevent (WRAP) events hosted by both Manchester and Merseyside Police, as well as Home Office documents for workshop facilitators and a facilitator script for WRAP events.
After a long legal battle by Netpol, the Home Office's 'counter-radicalisation' training materials are now public documents. Download them from our website https://t.co/iVtyHJRSr0

— Netpol (@policemonitor) May 2, 2018
Prevent training is often offered to teachers, social workers, and other government workers, with the aim to help them spot extremism and radicalisation amongst those with whom they come into contact.
The legal challenge began in 2015 after a recording surfaced at a WRAP training event hosted by the North West Counter Terrorism Unit of England. According to NETPOL there was "concrete evidence" that counter-terrorism officers in the region were linking anti-fracking protests to "domestic extremism" and making unsubstantiated claims about campaigners who took part in protests the previous year in Salford.
Requests made by NETPOL to see training materials used by officers and for clarifications on what examples of "domestic extremism" were being given at training sessions were denied on the grounds of national security and law enforcement.
READ MORE: Alleged neo-Nazi terrorist appears in court charged with plotting murder of Labour MP
Suspicions were confirmed in March 2017 when Merseyside Police released its own in-house WRAP training material. In addition to international jihadist terrorism, extreme right and left-wing extremism, and Irish-specific terrorism, anti-fracking was included as an example of "domestic extremists." Animal rights activists were also included.
Hydraulic fracturing, or fracking, is the process of extracting gas from the ground using a pressurised solution of water and unspecified chemicals. It has met much opposition due to environmental concerns.
In October 2017, the Scottish government announced an "effective ban" on the process, following a similar decision of the Irish government that July. There are calls for a full UK ban on fracking.
With the release of the training material, NETPOL is continuing its legal battle by pursuing the release of statistics by the Home Office on anti-frackers referred to in the government's early intervention 'Channel' program. "We believe it's vital to know what impact, if any, falsely labelling opposition to fracking during training sessions may have had on referrals to Channel," the group said in its statement.
If you like this story, share it with a friend!
You can share this story on social media: