Homelessness crisis: Number staying in B&Bs 1,000% higher than stats released by govt, report says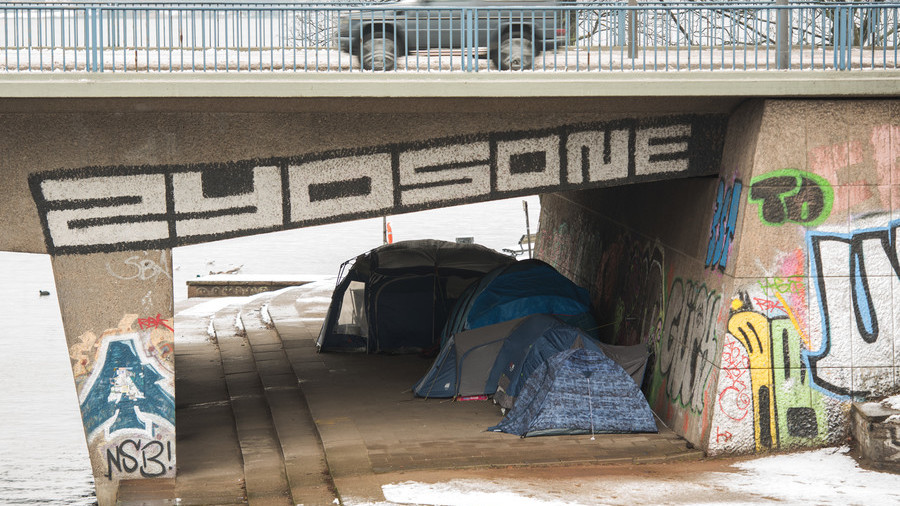 Over 50,000 people are living in B&Bs with nowhere to go – dwarfing the government's figure of about 5,000, a bleak report on homelessness has revealed. Charity Justlife is now warning thousands are "forgotten in statistics."
Using data gathered from Freedom of Information requests to local authorities, along with other information from the government's Rural and Urban Classification for Local Authority Districts data, Justlife estimates that at least 51,500 people were living in B&Bs in the year to April 2016. Government figures show that a mere 5,870 official B&B placements were recorded.
One B&B resident, referred to in the report as Malcolm, told of his experience of living in temporary accommodation for 18 months. "I'm totally depressed living there," he said. You can't have anything nice. Things just go missing.
"You see, there aren't working locks on all the doors. In my room there are bare wires hanging out and I have no light. I also feel quite vulnerable because anyone can get in or is let in and it gets me down."
Justlife's findings follow a separate investigation by the Bureau of Investigative Journalism that revealed that 78 homeless people died last winter – an average of at least two a week. Fatalities included rough sleepers, and people staying in temporary accommodation either at their own cost or thanks to a local council authority.
Author of the Justlife report Christa Maciver said: "We can no longer ignore the tens of thousands of people stuck homeless, hidden and ignored in our cities. This report shows there is so much we don't know and that we really need to be calculating homelessness more accurately.
"Very few seem to care about the vulnerable people who end up in B&Bs, hostels and guesthouses. Once they are there they are forgotten and it's almost like we forget they are people.
"Their mental and physical health gets worse, and many can end up dead, but because they have a roof over their head – no matter how insecure – they are not counted within homelessness, when they should be. Only if we acknowledge the problem will we really be able to start finding solutions."
Justlife's findings are yet another blow to the government's homelessness policies. A report commissioned by Crisis and the Joseph Rowntree Foundation (JRF), released earlier this month, estimated that over 100,000 households would be living in temporary accommodation by the year 2020. The government of Theresa May has vowed to halve rough sleeping by 2022, and eliminate it altogether by 2027 – a pledge that now seems ever harder to achieve.
Responding to the findings, a Ministry of Housing, Communities and Local Government spokesman said: "Everyone deserves a safe and decent place to live, and we are providing more than £1.2 billion (US$1.65 billion) to ensure homeless people get the support they need.
"To ensure they can access permanent accommodation, we are also investing £2 billion in social rent housing and allowing councils to borrow more to build homes. In addition, the Homelessness Reduction Act came into force this month, requiring councils to help those at risk of being homeless sooner."
Think your friends would be interested? Share this story!