Rough-sleeper deaths double in five years, govt accused of 'pitiful response'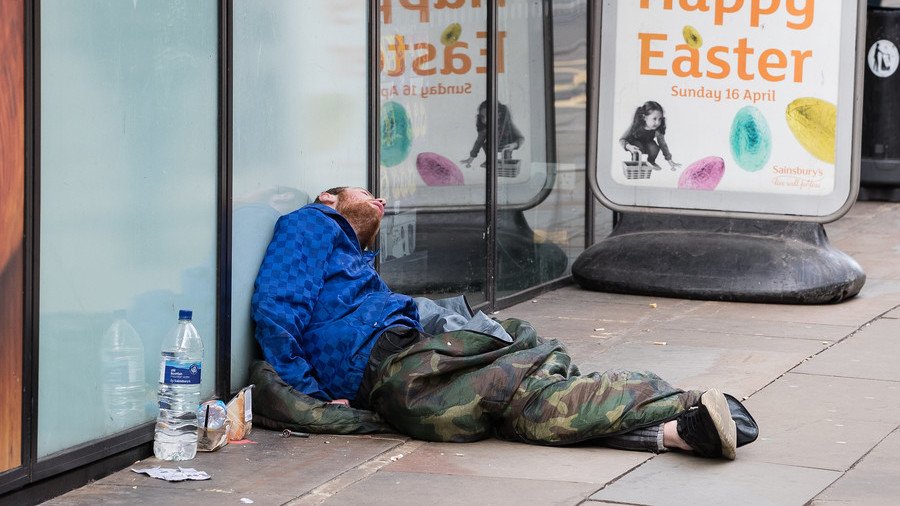 Deaths of rough sleepers have more than doubled in five years, new figures reveal. It comes as the government is accused of adopting a "pitiful response" to homelessness, despite vowing to eradicate rough sleeping by 2027.
According to figures obtained by The Guardian, the number of homeless or people in temporary accommodation perishing on the streets of Britain has gone from 31 in 2013 to 70 in 2017. In 2017 alone, there was an average of more than one death a week, while 28 deaths have already been recorded in 2018.
The figures, however, are likely to be just the tip of the iceberg as the UK government keeps no national record of homeless deaths and local councils are not obliged to keep track of the victims.
The increase has been attributed by analysts to a growing number of people sleeping rough due to 10 years of Tory-led austerity measures, soaring rents and lack of social housing.
Last September, the National Audit Office "welfare reforms" are likely to have increased homelessness. Tory Communities Secretary Sajid Javid himself starkly admitted during an LBC interview at the end of last month that Conservative welfare cuts may well have contributed to a rise in the number of homeless people.
"These figures are a devastating reminder that rough sleeping is beyond dangerous – it's deadly, and it's claiming more and more lives each year," said Matthew Downie of the homeless charity Crisis. He added: "Those sleeping on our streets are exposed to everything from sub-zero temperatures to violence and abuse, and fatal illnesses.
"They are 17 times more likely to be a victim of violence, twice as likely to die from infections, and nine times more likely to commit suicide. What's worse, we know these figures are likely to be an underestimate," he told The Guardian.
It comes as the government is accused by the Labour opposition of having a "pitiful response" to the rise of homelessness in England, which has steadily increased since the Tories gained power in 2010 to 4,751.
The Tories pledged at the beginning of last month a £30-million ($42.5-million) fund for councils with high levels of homelessness. But Shadow housing secretary John Healey said the plans were "a pitiful response to a national crisis that has grown worse every year since 2010."
The Government's Homelessness Reduction Act comes into force this month. It pledges to halve the number of rough sleepers over the course of Parliament and eradicate homelessness entirely by 2027.
If you like this story, share it with a friend!
You can share this story on social media: