How has UK Home Secretary Amber Rudd managed to keep her job?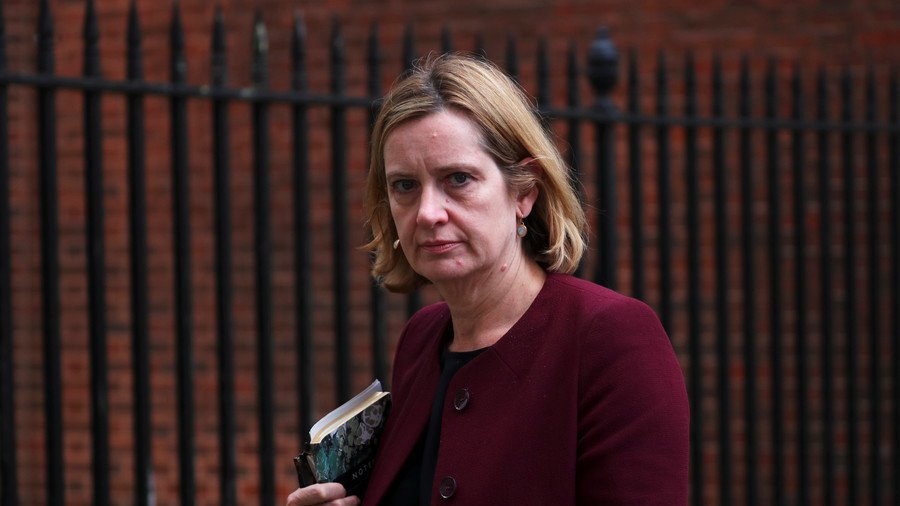 Amber Rudd's political life hangs in the balance, as non-stop revelations emerge over her mishandling of the Windrush scandal. She has faced accusations of lying and misleading MPs, yet Rudd remains in her job – for now.
Windrush scandal
Speaking at the Home Affairs Select Committee in relation to the recent Windrush scandal, Rudd claimed that the Home Office did not set targets for the removal of illegal migrants. She told MPs: "We don't have targets for removals ... If you ask me, 'are there numbers of people we expect to be removed?', that's not how we operate."
So that cleared everything up, right? Wrong. It was later revealed that the Home Office, as recently as three years ago, did have targets for the removal of illegal migrants. A report published by the Chief Inspector of Borders and Immigration showed that for 2014/15 the Home Office set a target of 7,200 Voluntary Departures for illegal immigrants.
MPs such as Labour's David Lammy, who has championed the cause in Parliament, fear this target would include the Windrush generation, citizens that are in the UK lawfully.
Responding in Parliament to an urgent question on this apparent falsifying of facts, Rudd admitted that "local" targets for the removal of immigrants was Home Office procedure but denied it extended to national targeting.
She told Parliament: "The immigration arm of the Home Office has been using local targets for internal performance management," adding that she was not made aware of such targets.
Hang on. Why has Rudd failed to get a grip of such crucial Home Office policies that affect the lives of so many, and what's the difference between local and national targets? The Guardian's Amelia Gentleman, who uncovered the story of the retired Canadian widow who has lived in the UK for 44 years before being threatened with deportation, asks the same question on Twitter.
Diane Abbott, the shadow home secretary, often the subject of ridicule and calls for her resignation because of supposed gaffes, appeared to turn the tables in Parliament as she asked Rudd: "Isn't it time that the home secretary considered her honor and resigned?"
British journalists have been lining up on social media to question Rudd's position, while others appeared to mock her.
The once hotly-tipped candidate to become the next Tory leader now seems to be running around like a chaotic hotel manager not dissimilar to Basil Fawlty, trying to plug holes, self-inflicted from the incompetent running of her Home Office department.
So why hasn't Rudd stepped down or been sacked? The answer may lie in the power dynamics at the top of government being so delicately poised, that if one big hitter like Rudd was to go, it could signal the collapse of Prime Minister Theresa May's house of cards, and with it the real prospect of a general election or a leadership challenge.
The New Statesman's Stephen Bush highlights the key relationship between Rudd and May, the latter of whom was home secretary before becoming PM. He suggests Rudd's hands are tied on the Windrush scandal as she cannot do "the unpicking of the hostile environment policy which represents the major legislative accomplishment of Theresa May's time at the Home Office and the only legislative accomplishment of May's time at Downing Street."
According to Reuters, the PM's spokesman, responding after today's urgent question, has said that May has full confidence in the home secretary.
Stephen Lawrence's father – '3 requests to meet her [Rudd] and...no reply'
The father of black teenager Stephen Lawrence, who was brutally murdered by a gang of white racists 25 years ago in what became a watershed moment for race relations in the UK, has said that Rudd has refused to meet him face to face three times, reports Metro.co.uk.
Dr Neville Lawrence has requested meetings with Rudd in the relation to revelations that he was spied on by undercover policemen, in the wake of his son's death.
He told Metro.co.uk: "I have never met the woman. I have made three requests to meet her and have not even got a reply from her. I don't know what more I can do."
Some may suggest that blanking such a courageous father is hardly the required conduct of a home secretary who is interested in improving race relations between the British state and the black community.
Rudd ridiculed by Police Federation for answer on foodbanks
While addressing the Police Federation conference in 2017, where she maintained that the 1 percent public sector pay cap was justified, she responded to a claim that police officers were having to resort to foodbanks because of low pay by saying: "the average police officer's earnings is about £40,000 a year so I am surprised to hear that," reported Politics Home.
She allegedly drew groans from the audience with this response, probably because the figure of £40,000 (US$55,000) she gave is wide of the mark, that some may claim demonstrates a complete lack of understanding in an issue that comes under her jurisdiction.
To put that into context, the website payscale says that a police officer earns an average salary of £30,901 per year. If her counterpart, Diane Abbott, had made such a claim, it would not be unreasonable to suggest the MSM would have had a meltdown, rather than the limited coverage that followed Rudd's gaffe.
In 'normal times', Rudd's litany of misdemeanors would have led to her removal. However, who can even remember when these normal times were? A UK PM walking the tightrope of Brexit negotiations, propped up by 10 DUP MPs acting as sticking plasters on her unstable premiership, appears to be a godsend right now for the UK home secretary.
@OmarBaggili, RT Journalist
If you like this story, share it with a friend!
You can share this story on social media: