Union chief accuses 'Corbyn-hating' Labour MPs of anti-Semitism smear campaign
Published time: 26 Apr, 2018 11:40
Edited time: 27 Apr, 2018 07:59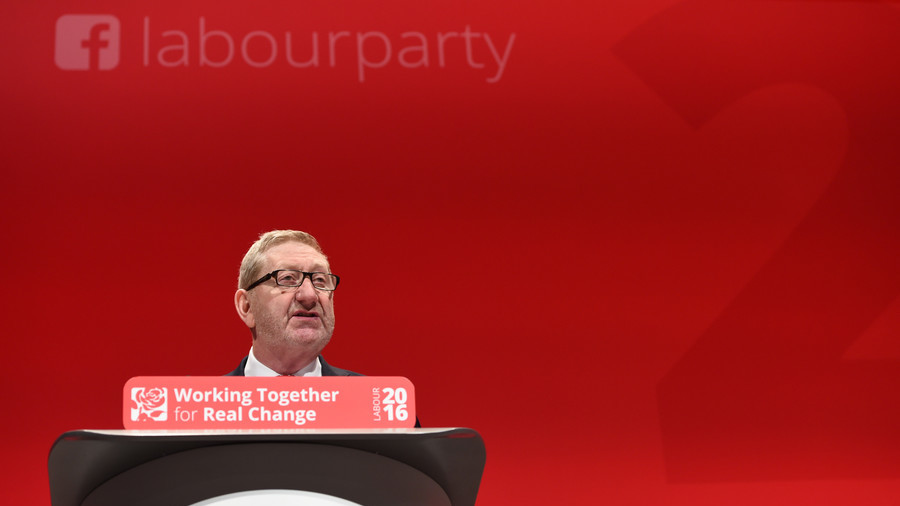 Powerful union boss Len McCluskey has launched a scathing attack on a group of Labour MPs, accusing them of smearing their leader Jeremy Corbyn with their claims of anti-Semitism.
Speaking to the New Statesman, the Unite leader took aim at MPs Chris Leslie, Neil Coyle, John Woodcock, Wes Streeting and Ian Austin among others in a heated defense of his ally.
He claims the group are "working overtime trying to present the Labour Party as a morass of misogyny, anti-Semitism and bullying."
"Their determination to divide the party into pro- and anti-Corbyn factions, despite the huge increase in Labour's vote secured last year, ultimately pollutes everything it touches. That includes the work against anti-Semitism," he said.
McCluskey's comments come after a number of Labour MPs used a Commons debate to urge Corbyn to stamp out anti-Semitism in the party. Jewish MPs Luciana Berger and Ruth Smeeth were given standing ovations after speaking passionately about their own experience of anti-Semitic threats.
READ MORE: Corbyn set for showdown with Jewish groups that led protests against him
Corbyn has acknowledged that it was 'an uncomfortable fact' that some Labour Party members and supporters held anti-Semitic views.
McCluskey derided the actions of the MPs as an attempt to undermine the Labour leader. "To watch as these so-called social democrats tried to demean and attack, in front of our enemy, a decent and honorable man who has fought racism and anti-Semitism all his life, and who has breathed life and hope back into the hearts of millions, especially the young, made my stomach churn. To see Tory MPs cheer and applaud them was shameful," he said.
"I have fought anti-Semitism and anti-Semites all my life, including physically on the streets on occasion, and I need no lectures from anyone else on the subject. I am not sure that some of the voluble backbench critics of Jeremy Corbyn can say as much."
Shadow Brexit Secretary Sir Keir Starmer rejected McCluskey's comments on Thursday, stating that denial of anti-Semitism in the party was part of the problem. "I disagree with Len McCluskey. Jeremy Corbyn has made it clear, and it is obvious, that we have got a problem with anti-Semitism. We have got to deal with it robustly and effectively," he told Today.
"Part of that is the disciplinary procedure, which needs to be much quicker and much more effective, but there is also a cultural question. Part of that cultural question is to stop those denying that there is even a problem. That is part of the problem. So I am afraid I disagree with Len on this."
McCluskey, 67, has served as the head of Unite since 2011. The union endorsed Corbyn during the 2015 leadership election and was crucial to his survival during the 2016 coup attempt.
If you like this story, share it with a friend!