EU 'systematically & forensically annihilates' May's Irish border plans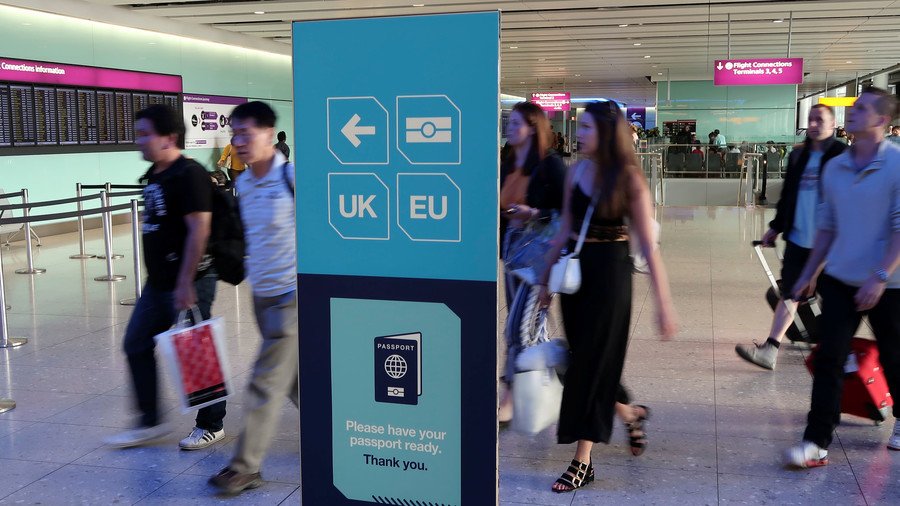 The EU has comprehensively rejected UK proposals for a new customs relationship that sought to avoid a hard border in Northern Ireland, plans that suffered a "systematic and forensic annihilation," says a senior EU diplomat.
The EU source, who was privy to Wednesday's meeting in Brussels between Britain's lead negotiator Olly Robbins and senior EU officials, reportedly told The Telegraph: "It was made clear that none of the UK's customs options will work. None of them."
The latest revelations to emerge from the EU negotiations could risk creating parliamentary instability for British Prime Minister Theresa May in the House of Commons. It may strengthen the case put forward by staunch remain MPs that staying in the EU Customs Union is the only option, and possibly harden the devoted Brexiteers' view that moving on to WTO arrangements is the only alternative.
The UK PM has consistently reiterated that she will not allow the return of a hard border to Northern Ireland, but at the same she has also promised to leave the EU Customs Union – believing that remaining would be seen as a "betrayal" of Brexit.
During her Mansion House speech on March 2, May expanded on this specific issue by saying that staying in the EU Customs Union would "not be compatible with a meaningful independent trade policy." It was a point that seemed to resonate with many Brexiteer MPs who have long argued that remaining in the Customs Union would prevent the UK from striking new trade deals with non-EU countries around the world.
May then went on to set out two proposals for a new customs arrangement between the UK and EU that would, in her view, avoid a hard border in Northern Ireland.
The EU has rejected UK proposals on Irish border, slaming our chances of leaving Customs Union. With launch of @peoplesvote_uk led by Soubry and co, Lords voting against the British public, and likely Commons revolt next week - could this be a coordinated coup to prevent Brexit? pic.twitter.com/xD1W74kXPH

— Steven Woolfe MEP (@Steven_Woolfe) April 20, 2018
The first was a "customs partnership," where the UK would collect duties on behalf of the EU for goods destined for the European Union. This plan has since been dismissed out of hand by EU negotiators, according to the senior EU diplomat.
The second proposal, and reportedly preferred choice for the UK negotiators, was described as a "highly streamlined customs arrangement" by May. It was seen as the 'technological solution' that would combine 'trusted trader' schemes with technology to handle exemptions for small businesses. The UK government said that this would enable "around 80 percent of small businesses to operate with no new requirements in relation to customs processes." Again this was a proposal reportedly rejected by the EU.
With the crucial European Council meeting now just months away, time is of the essence to find a way to progress talks positively.
A spokesman for May said that he could not substantiate reports coming out of Wednesday's Brussels meeting that British proposals had been roundly rejected by the EU.
The spokesman said: "We don't recognize these reports. We are confident that in the coming months, if all sides work together productively, we can achieve a solution to the Ireland/Northern Ireland border that works for everyone involved," reports Reuters.
This latest development follows the government's first defeat in the House of Lords over the EU Withdrawal Bill, with a vote that favors Britain staying in some form of a customs union. As a result Tory MP rebels moved to increase pressure on the PM by tabling a parliamentary motion on Thursday calling on the government to make being in a customs union with the EU a negotiating objective.
The vote, which has cross-party backing, would be non-binding but could be used by Tory whips to gauge the temperature of the Commons ahead of any similar vote which could force ministers to change policy on a future trading relationship with the EU.
Like this story? Share it with a friend!
You can share this story on social media: