Assange has 'physical proof' Russia didn't hack DNC – Congressman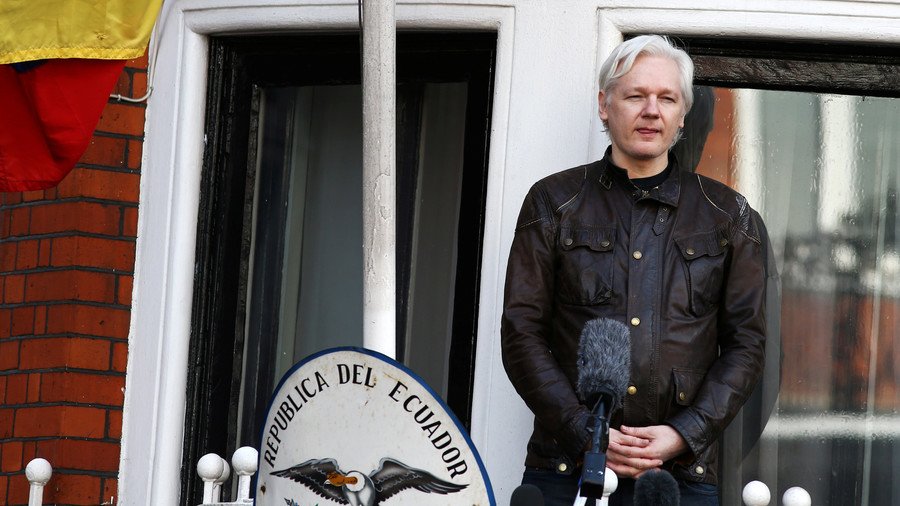 Russia did not provide WikiLeaks with Democratic National Committee emails during the 2016 US presidential campaign and Julian Assange has physical evidence to prove it, says a Republican congressman who met with him.
Rep. Dana Rohrabacher (R-California) visited the Ecuadorian embassy in London in August 2017 and met with Assange. He brought up that meeting on Wednesday evening's episode of Breitbart Radio.
"By now, everybody knows that this idea that Trump was colluding with the Russians in order to get them to do things like steal the DNC emails and then release them through WikiLeaks, the public knows that's just total baloney," Rohrabacher said. "I knew the one man who could prove that it was all baloney was Assange. So I went to see him in London, and he confirmed for me that the Russians did not give him the DNC emails."
Assange had "physical proof of that" and was going to show it in exchange for an agreement that he would not get arrested upon leaving the embassy, Rohrabacher said. The WikiLeaks co-founder has been virtually imprisoned inside the London building since 2012, after the UK sought to arrest him on a Swedish warrant that has since been lifted. British authorities insist they will arrest Assange the moment he leaves the embassy, for violating the terms of his bail.
Rohrabacher has not been able to discuss the Assange meeting with President Donald Trump so far, due to special counsel Robert Mueller's investigation into the 2016 election, he told Breitbart.
"I've been waiting because I know that we're not going to give this special prosecutor any more ammunition than he needs to try to destroy this president," he said, according to the Washington Times.
Hillary Clinton and the DNC have accused Russia of hacking the party's emails and releasing them through WikiLeaks in June 2016. They have also accused WikiLeaks of being a "Russian cutout," for publishing the private emails of Clinton's campaign chair John Podesta in the month leading up to the election.
WikiLeaks has not commented on Rohrabacher's claims, but generally does not reveal sources.
Assange has been unable to comment, as the government of Ecuador suspended his internet access at the end of March and barred him from receiving visitors, reportedly over a tweet he posted about Spain's policy towards the separatists in Catalonia.
In his last interview before the communications shutdown, Assange told journalist Stefania Maurizi of the Italian daily La Repubblica he was ready to testify about WikiLeaks' relationship with the controversial data research firm Cambridge Analytica, accused of improperly accessing information of over 80 million Facebook users worldwide.
2. Julian #Assange confirmed me he wanted to testify on #CambridgeAnalytica, the very same day @repubblica published my interview with Julian #Assange (28March) I was informed his internet and phone communications have been cut and journos and visitors are not allowed

— stefania maurizi (@SMaurizi) April 19, 2018
An investigation into the alleged hack, by Veteran Intelligence Professionals for Sanity (VIPS) last year, showed that the transfer rate simply did not support the claim that the servers were accessed from overseas. VIPS argued that the "data was leaked (not hacked) by a person with physical access to DNC computers."
NSA whistleblower William Binney presented the group's findings to CIA Director Mike Pompeo last November.

If you like this story, share it with a friend!
You can share this story on social media: