David Cameron's disastrous Libya intervention criticized by own committee (VIDEO)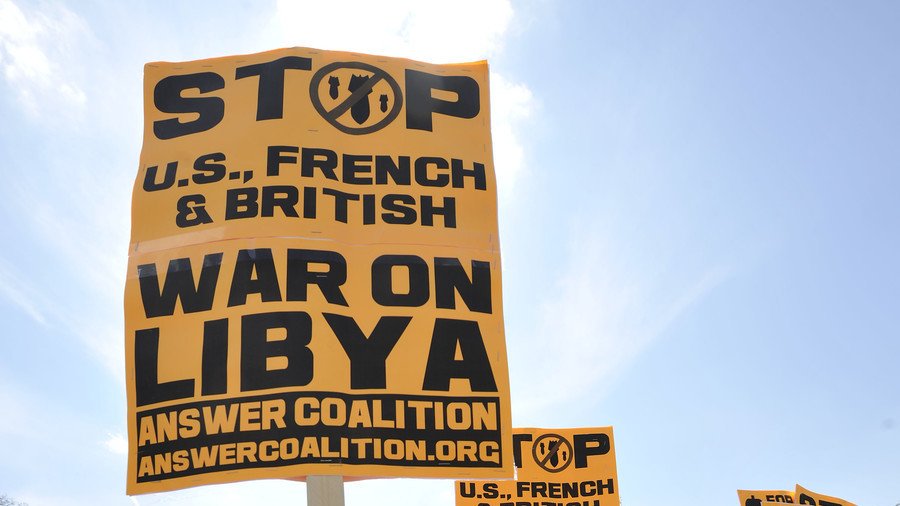 The UK's intervention in Libya contributed to the north African country's current instability, according to a commission chaired by David Cameron – who as prime minister oversaw and championed the 2011 military action.
Exiled Libyan Professor Mubruk Derbesh told RT's Bill Dod it is "funny" Cameron is the chair of the commission, saying it's akin to "having Jack the Ripper investigating the deaths of females in the streets of London."
The State Fragility, Growth and Development Commission, which Cameron chairs, found that his decision to intervene in Libya against its then-leader Muammar Gaddafi likely contributed to the "disintegration" of the north African state.
"Variants of the strategy exemplified in Iraq have been implemented again and again," it said. "Colonel Gaddafi in Libya, President Mubarak in Egypt, President Mobutu in Zaire and oppressive rule over South Sudan and the Taliban in Afghanistan: the ousting of all these regimes have been followed by 'pop-up democracy'. Yet none of these societies duly became flourishing democracies. Instead each disintegrated into varied degrees of disorder."
Exiled Libyan Professor Derbesh told RT "Cameron did not take out a dictator in Libya, Cameron took out the state of Libya, the state that was stabilized."
READ MORE: Britain's ex-MI6 chief thinks Western intervention saves lives, really wants to bomb Syria
Rather than Western powers intervening in the country, Derbesh said the struggle for democracy "could've been an organic revolution by the Libyans, if you let the Libyans revolt by themselves. And what may take years may take longer than that but that's what happens, it's a choice of the Libyans. If you were really looking out for the wellbeing of the people of Libya, you should have let them make their own choices."
Cameron, who has himself never apologized or criticized the Libya intervention, seemed to appreciate the findings of the report, saying: "I am a convinced democrat, but the truth is that in too many countries, particularly when they're recovering from conflict, there has been a rush to multi-party elections."
Former US President Barack Obama reportedly criticized Cameron's decision to intervene in Libya as turning country into a "s*** show."
He said Cameron had neglected Libya in the aftermath and became "distracted by a range of other things".
In a US magazine interview in 2016, Obama went on: "We actually executed this plan as well as I could have expected: We got a UN mandate, we built a coalition, it cost us $1bn – which, when it comes to military operations, is very cheap. We averted large-scale civilian casualties, we prevented what almost surely would have been a prolonged and bloody civil conflict. And despite all that, Libya is a mess."
In private the former Democratic leader reportedly refers to that "mess" as a "s*** show."
If you like this story, share it with a friend!
You can share this story on social media: