Meet the MPs who back 'humanitarian' bombing in Syria, but who have been silent on abuses elsewhere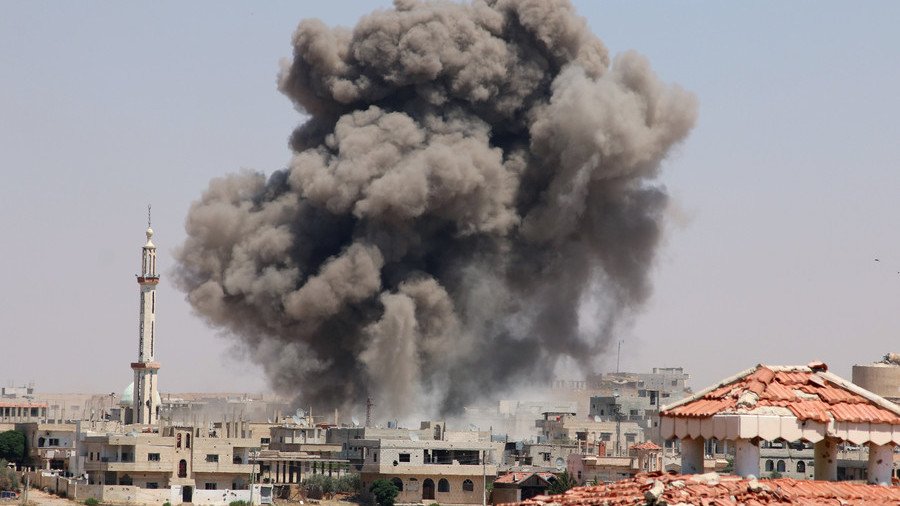 Since rumblings late last week that Theresa May was likely to authorize British military intervention in Syria, numerous MPs have spoken out in support of the PM – but is there a whiff of hypocrisy in the air?
John Woodcock MP, Barrow and Furness
The former Labour Friends of Israel chair has been supportive of May's decision to launch airstrikes in Syria, highlighting the need to remove the alleged threat of chemical weapons attacks on the civilian population.
In a tweet on Saturday, Woodcock told his followers that the UK was right to join forces with the US and France in Saturday's airstrikes in Syria, saying: "It was right that the UK joined our allies in action to degrade Assad's chemical weapon capability in Syria – we must act together to remove the threat of these dreadful weapons that indiscriminately slaughter civilians."
However, Woodcock's humanitarianism doesn't seem to stretch north of the Syrian border. Take his support for Turkish leader Recep Tayyip Erdogan, who himself is prone to military intervention in Syria. In January, Turkey launched 'Operation Olive Branch' against the Kurds in Afrin, and the assault has resulted in over 500 civilian deaths, according to the Syrian Civilian War Map site.
Woodcock has, however, remained silent on those civilian deaths. Rather than speak out against the Erdogan government in the past, Woodcock has instead praised it. In a December 2017 interview, published in the Daily Sabah, a Turkish pro-government newspaper, the MP said he hopes that Turkey "feels able to come out of its state of emergency as soon as possible so that you can better project the plurality and the tolerance and the progressive changes that are happening right now in your country without the response to the security threat you are facing at the moment."
Woodcock has recently returned from Riyadh, Saudi Arabia, where he was there to learn more about the kingdom's operations in Yemen. He tweeted some pictures of his little adventure.
Woodcock was one of around 100 Labour MPs who were missing or who deliberately abstained from the vote to withdraw support for the Saudi-led military intervention in Yemen, which has seen the death toll rise to 10,000, according to the UN.
Johnny Mercer MP, Plymouth and Moor View
Tory MP Johnny Mercer during this week's 'War Powers Act' debate insisted that he backed the PM's decision to authorize airstrikes in Syria based on his experience in the armed forces and to protect the citizens of the UK.
He went on to suggest that allowing Parliament to debate whether the country should engage in imminent military action would make the UK less safe, saying that "inaction while Syria burns is not acceptable."
So Mercer is seemingly concerned about "Syria burning" yet is silent when it comes to civilian casualties in Yemen and Gaza? Furthermore, he voted against Labour's motion to stop UK support for Saudi Arabia's campaign in Yemen. The actions of a man concerned about human life?
Ian Austin MP, Dudley North
Austin famously heckled Jeremy Corbyn during the Labour leader's speech on the Iraq war upon the publication of the Chilcot report, telling him to "shut up" and shouting "you're a disgrace." Austin has been an advocate for military strikes against Assad's Syrian government since as early as 2013. He publicly revealed his regret that the UK government didn't win a vote back in 2013 to militarily intervene in Syria. Tweeting earlier this year, he said: "Maybe we need a Chilcott-style inquiry on our 2013 failure to prevent the carnage?"
Austin is an MP so concerned with human rights that he joined Woodcock in abstention on the Saudi arms deal vote. Clearly the calls to suspend sales made by the UN secretary general, Save the Children, Amnesty International, and Human Rights Watch are apparently not enough for Austin to stop his backing of Saudi Arabia in the war in Yemen.
READ MORE: 'It just doesn't ring true': The leading UK figures questioning 'proof' of Douma 'gas attack'
According to a Labour Party source close to media news outlet the Skwawkbox, Austin is content to see Saudi Arabia continue its bombing campaign in Yemen.
"Ian Austin would personally drop the bombs on Yemen himself if you gave him a chance. If the devil is ever on leave Austin subs for him."
Michael Fallon MP, Sevenoaks
The former defence secretary was famously ambushed by Shadow Foreign Secretary Emily Thornberry, when she revealed that in May 2007 Fallon was reportedly in Syria at a reception to celebrate the re-election of President Assad.
In December 2016, Fallon defended Britain's support for Saudi Arabia over its use of cluster bombs in Yemen, insisting there was no breach of international law because they were used against "legitimate military targets."
He claimed back in October 2017, while speaking to the Defence Committee, that criticism of Saudi Arabia in Parliament was hampering Britain's ability to secure sales of typhoon jets to the kingdom, as he remarked: "I have to repeat sadly that obviously other criticism of Saudi Arabia in this Parliament is not helpful." A case of money before morals for Mr Fallon?
The moral relativism shown by MPs knows no bounds; in one breath they decry humanitarian abuses, while in the next they obfuscate on those committed by allies.
Omar Baggili, RT Journalist
Like this story? Share it with a friend!
You can share this story on social media: