Syria strikes: Evidence and democracy are such nuisances when there are missiles to launch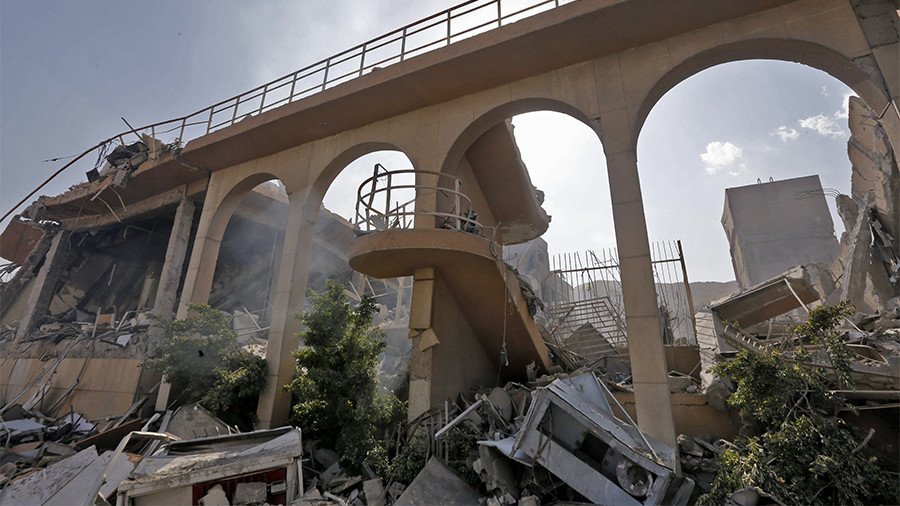 The UK government has proved in the last few weeks that it is ahead of its time, moving into a post-evidence, post-irony, post-democratic era. Whether it's accusations or missiles, Theresa May just can't wait to launch them.
Ironically, the one person May does have to wait for is US President Donald Trump. It appears she fairly quickly decided to join any airstrikes against Syria, but had to wait for Trump to tell her where and when they would be happening. British forces are in such a poor state anyway, that it mainly tags along for moral support on missions like this.
Reportedly, Trump told his French counterpart Emmanuel Macron that the strikes were happening before the British leader. May must have been forlornly staring at Twitter, waiting for the Donald to give her the go-ahead, and wondering whether publicly holding his hand at the White House last year was really worth the humiliation.
Trump and May were accused of dithering over whether to attack Syria (that is they took longer than five minutes to decide whether to potentially start a global war) over allegations of a chemical attack in the town of Douma on the outskirts of Damascus, but they were still faster than any evidence. Inspectors from the chemical weapons watchdog, the OPCW, were due to arrive in the area the day after the Western powers launched their missiles.
Evidence has become a dirty word and itchy trigger fingers take precedence, especially when the domestic politics of Trump, May and Macron pose the very real risk of making them look incompetent.
Pretend reporter: "Prime Minister, is there any way Brexit won't turn out to be a complete disaster?"
Pretend prime minister: "Well, you know… oooh quick, everyone, look at my big missile!"
Theresa May doesn't want to look too despotic, though, at this delicate time, so she has retroactively decided to engage in a spot of light democracy this week. She's already launched the military action against Syria, so now the government and the opposition will get the chance to debate whether it was a good idea. Perhaps even have a vote on it.
Let me just repeat that, because your mind may have struggled to take that in. The British parliament is debating, and may vote on military action that has already taken place.
When the government's legal justification for bombing is 1,000 words long, yet contains no reference to the UN Charter, Security Council, to any international treaty or to any international court ruling, you know it is complete and utter bullshit https://t.co/vmk8733bde

— Craig Murray (@CraigMurrayOrg) April 15, 2018
The poisoning of Sergei and Yulia Skripal has clearly provided a scenario that this Conservative government likes, a lot. May accused Russia of being behind the Salisbury spy poisoning before the police had finished their investigation, and again, before the OPCW inspectors had arrived to take samples of the traces of nerve agent (Someone seriously needs to have a word with the OPCW's travel agent).
May saw her actions unite parliament and saw the leader of the opposition attacked from all sides for suggesting that everyone should wait for the evidence to arrive. That success is extremely tempting for a prime minister who is usually fighting for survival.
So far then, we have seen demonstrations of the new post-evidence and post-democratic eras, but what about post-irony, who could possibly be providing that?
Enter stage-left, Boris Johnson. Writing in The Telegraph over the weekend, the British foreign secretary said about the Syrian airstrikes: "We are standing up for principle and for civilized values. We may not end the barbarism – but we are telling the world that there is one type of barbarism that is banned and that deserves to be banned."
I have read it several times, and his article in the Telegraph does not appear to be satire. Western leaders are working hard to retain the right to decide how people are killed in wars and when, and they aren't joking.
Think your friends would be interested? Share this story!
You can share this story on social media: