Syria bombing: May braces for MPs backlash as she gives in to emergency Commons debate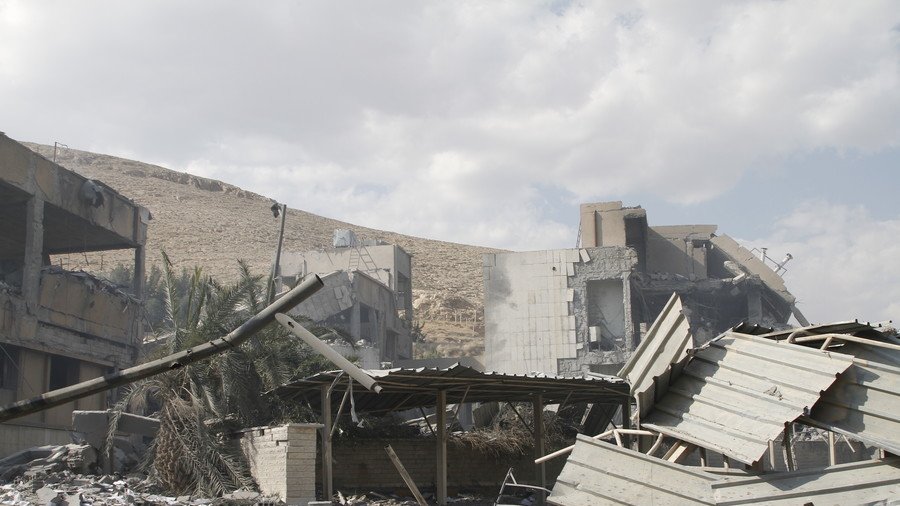 Theresa May will be grilled over military action in Syria after she finally caved in to pressure to hold a Commons emergency debate two days after more than 100 "legally questionable" missiles were launched.
The PM has allowed for a six-hour emergency debate to take place on Monday in a bid to fend off any attempt by MPs to hold a retrospective parliamentary vote on the legitimacy of military action against suspected chemical weapons facilities in Syria. Labour leader of Jeremy Corbyn chided the Tory leader for "taking orders" from US President Donald Trump as she sanctioned the airstrikes without getting parliamentary approval in advance.
May is expected to reiterate that the strikes were in the "national interest." She is expected to add: "Let me be absolutely clear: We have acted because it is in our national interest to do so. It is in our national interest to prevent the further use of chemical weapons in Syria – and to uphold and defend the global consensus that these weapons should not be used.
"For we cannot allow the use of chemical weapons to become normalized – either within Syria, on the streets of the UK, or elsewhere."
Former UKIP leader Nigel Farage slammed May for "pretending" the strikes were in the interest of British people. Speaking on LBC, he said on Sunday: "Theresa May tells us in her speech that we're doing this in our national interest. Pull the other one! This is not in our national interest at all.
"If you believe it'll stop the use of further chemical weapons, then at least you have moral grounds for doing it. Don't try and pretend to me it's in our national interest. It isn't."
Corbyn said that the strikes were "legally questionable" and that he would use the debate to push for a new "War Powers Act" that would ensure all future government leaders required MPs' approval before taking almost any military action.
The Scottish National Party (SNP) is likely to back the act, as it had insisted that a debate should have been held last week rather than two days after the action was launched.
The SNP's Westminster leader, Ian Blackford, said: "It is welcome that the prime minister has finally caved in to our calls for a full parliamentary debate on the escalation of military action in Syria.
"But a debate and vote should have happened last week before any change to the role of UK forces in Syria. Indeed, we have been calling for parliament to be recalled since last Wednesday," Blackford said in a statement.
"This extraordinary U-turn is an admission that the prime minister made an error in failing to recall parliament and is yet more evidence of how ill-considered this military action is – and just how far Theresa May's actions have been dictated by presidential tweet."
Although MPs may call for a substantive parliamentary vote on the action, the debate will only be accompanied by a neutral motion, such as "that the House has considered the matter of military action taken on 14 April." It means that any vote will not necessarily affect the legitimacy of the airstrikes.
If you like this story, share it with a friend!
You can share this story on social media: