British PM May says it was 'right and legal' to take military action in Syria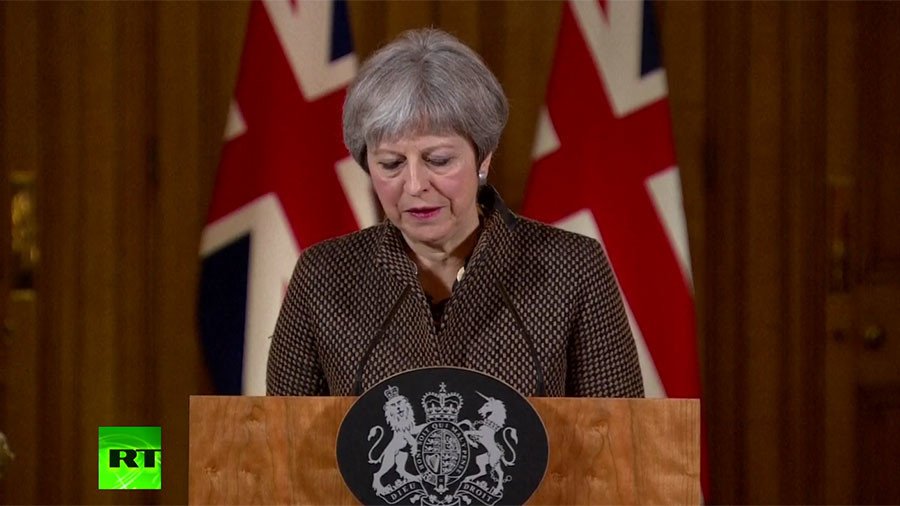 UK Prime Minister Theresa May defended her "grave" decision to join the US-led strike against Syria without MPs' consent. She maintained that the military action was "right and legal" and sends a message to "others."
During her Saturday news conference, Prime Minister May had to repeat multiple times how "right" the decision to strike the Arab Republic was, despite the lack of parliamentary approval for the military option.
READ MORE: First images of US-led strikes on Damascus emerge (PHOTOS, VIDEOS)
The prime mister said that the attack was a "success" according to a preliminary assessment, while the data is still being evaluated.
Reporters grilled May on the topic of failing to get parliamentary consent before taking the decision, but she maintained the same mantra, and said she will address MPs next week. Labor leader Jeremy Corbyn, who earlier accused the PM of "waiting for instructions" from the US president, condemned the strike. He said that "bombs won't save lives or bring about peace."
However, the diplomatic effort is not as effective as it used to be, according to May.
The US-led strike on multiple sites in Syria, supported by France and the UK, came in response to the alleged chemical attack in Douma, Syria last Saturday. In her statement, May said the Syrian government is to blame for the incident, citing "open source accounts" and non-governmental group reports.
She is not the first British PM to take the "grave decision" to use national forces abroad before any substantial evidence is presented. Back in 2003, Tony Blair took the decision to invade Iraq on the false pretext that the country possessed weapons of mass destruction. These weapons have never been found.
May stressed that the airstrikes were not aimed at regime change or intervening in the civil war that has been ravaging Syria for years. However, it might have served a double purpose. She said that the move was a "clear message to anyone else who thinks they can use chemical weapons with impunity."
You can share this story on social media: