Tony Blair lauded for outstanding contribution to democracy (yes, really)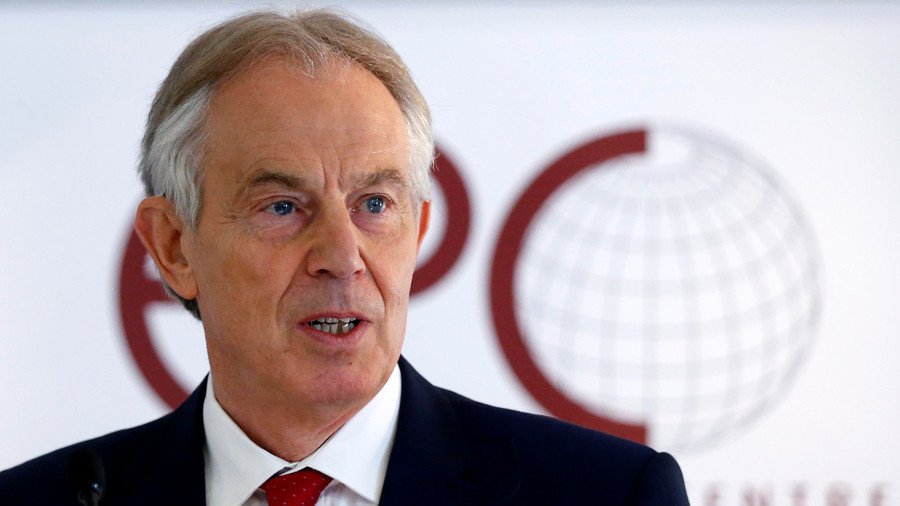 Ex-PM Tony Blair has been awarded one of the greatest accolades of the US for his contribution to democracy. In a move set to anger anti-Blairites, he is the first Brit to be awarded the prize.
The Lincoln Leadership Prize recognizes outstanding leaders who display "great strength of character, individual conscience, and an unwavering commitment to the defining principles of democracy," just like the 16th US president.
Blair has been named the 2018 winner of the prize. The Abraham Lincoln Presidential Library Foundation says it gave the prize to Blair for his supervision of the Northern Ireland peace process, introduction of the national minimum wage and civil partnerships, "revitalisation" of public services including health and education, improvements to maternity rights, success in lifting people out of poverty and equality and human rights legislation.
The foundation made no mention of his controversially taking the UK to war in Iraq in 2003, which saw him investigated for war crime allegations during the Chilcot Inquiry. He has also earned millions advising anti-democratic tyrants since departing from Westminster. He has also undermined the current government at every opportunity, not to mention his own party, by advocating repeatedly for a second EU referendum.
Ray McCaskey, chairman of the award's board of directors, said Blair shared with Lincoln an understanding that leaders have to take decisions "that might be unpopular with the public. Yet they remained singularly focused on the policies that would strengthen their countries," he said.
Blair joins the likes of Bill Clinton, Steven Spielberg, and Desmond Tutu, who have all previously received the award. However, many do not think he rates the prize, and Tory MPs last night labelled the award ironic.
MP Nigel Evans pointed out that the ex-PM had spent much of his time since leaving office advising figures such as the president of Kazakhstan – a country accused of a veritable trove of human rights abuses. "Tony Blair is not a democrat," Evans said. "He has spent a lot of time advising countries which are total strangers to democracy."
MP Nadine Dorries also added her voice to the choir. "It is beyond belief that Tony Blair – the man straining every sinew to overturn the votes of millions of people to leave the EU – is now being lauded for his commitment to democracy," she said. "I think the Americans should have taken a closer look at his record."
Think your friends would be interested? Share this story!
You can share this story on social media: