Israeli Labor Party suspends ties with Corbyn as he 'fails' to tackle alleged anti-Semitism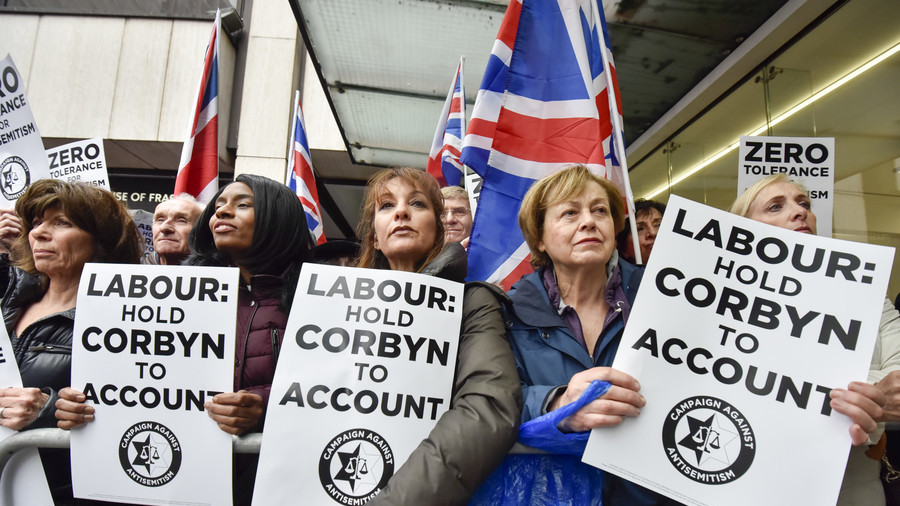 The Israeli Labor Party has decided to temporarily sever all ties with its British counterpart following allegations of anti-Semitism aimed at leader Jeremy Corbyn.
The party said it could not maintain relations with Corbyn, citing his perceived failure to tackle alleged anti-Semitism within the Labour Party. A letter sent to Corbyn, who is avowedly pro-Palestinian, also stated that his "public hatred" of Israel's state policies acted as a deterrent to any constructive relations.
Israel's Labor leader Avi Gabbay wrote: "We cannot retain relations with you, leader of Labour Party UK, while you fail to adequately address the anti-Semitism within Labour Party UK."
He proceeded to claim that it was Corbyn's responsibility "to acknowledge the hostility that you have shown to the Jewish community and the anti-Semitic statements and actions you have allowed as leader of the Labour Party UK."
"This is in addition to your very public hatred of the policies of the government of the State of Israel, many of which regard the security of our citizens and actions of our soldiers – policies where the opposition and coalition in Israel are aligned."
It comes after Corbyn was once again confronted with accusations of him being sympathetic to anti-Semites. Hundreds protested against Labour's alleged anti-Semitism outside the party's HQ and Parliament Square. Two Jewish groups were behind the protest: the Board of Deputies of British Jews and the Jewish Leadership Council. In an open letter, the former wrote that Corbyn has a "conspiratorial worldview in which mainstream Jewish communities are... a hostile enemy."
The Labour leader was, however, backed by the Jewish Voice for Labour, who said: "We are appalled by the actions and statements of the Board of Deputies. They do not represent us or the many Jews in the party who share Jeremy Corbyn's vision for social justice and fairness. Jeremy's consistent commitment to anti-racism is all the more needed now."
Corbyn, who has been a lifelong campaigner against racism, has faced accusations of anti-Semitism ever since he became leader, initially due to his endorsement of dialogue with Hamas and Hezbollah, who he described as "our friends." The accusations flared up again at the end of March after Corbyn expressed online support for a muralist whose work had anti-Semitic tropes.
Corbyn has a history of defending Palestinian rights. Most recently, he condemned Israel for its "inhumane" killing of Palestinians on its border with Gaza. Dozens of Palestinians were killed when Israeli soldiers opened fire on protesters.
'Incompetent, anti-Semitic, terrorist-sympathizing spy' – What will Corbyn be accused of tomorrow?
"They [Palestinians] have a right to protest against their appalling conditions and the continuing blockade and occupation of Palestinian land, and in support of their right to return to their homes and their right to self-determination," Corbyn said.
He endorses the UN's two-state solution, which envisages a State of Palestine alongside that of Israel.
If you like this story, share it with a friend!
You can share this story on social media: