Is Britain about to join US military action over reports of Syria chemical attack?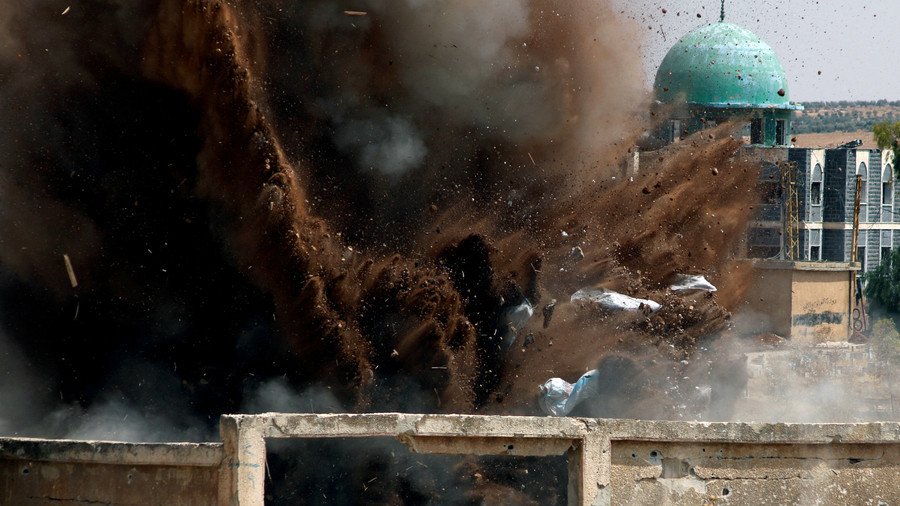 The UK is coming under increased pressure to join the US in its expected military action against Assad. Britain has a history of backing American foreign intervention without UN approval, a trend that could be set to continue.
Theresa May confirmed that she will speak with US President Donald Trump about the alleged chemical attack in Syria. She added that the UK is working urgently with its allies to assess what happened, and said that those behind the attack will be held to account.
The UK PM will chair a meeting of Britain's Security Council later today, speaking to reporters on Tuesday.
May has condemned Syrian leader Bashar Assad and his Russian allies over an alleged deadly chemical attack in Syria. Now, the pressure is on the PM to follow through with a military response against the Syrian government.
Calls to strike Syria come after reports of an attack in the formerly rebel-held city of Douma. On Sunday the White Helmets, a volunteer organization which operates in areas under the control of Syrian rebels, including groups linked to Al-Qaeda, published a statement that said a chlorine gas attack had taken place in the area on Saturday. The alleged attack was said to have killed dozens, including children.
During a trip to Denmark, UK leader May condemned the Assad government for its "barbaric" targeting of civilians. "If they are found to be responsible, the regime and its backers, including Russia, must be held to account," May said.
Later, in Stockholm, where May was meeting with Swedish Prime Minister Stefan Lofven, the UK PM added that: "We are working urgently with our allies to assess what has happened. But, we are also working with our allies on any action that is necessary."
Although May did not elaborate on the options available to the UK government, she did not rule out joining international military intervention against Assad.
A No. 10 spokesman said that Britain would consider "a range of options" if it was confirmed that there was evidence of chemical weapons being used.
The call was echoed by Foreign Secretary Boris Johnson, who said that "a full range of options should be on the table" in response to the attack. Options are understood to include airstrikes against military targets.
William Hague, who served in the Foreign Office when the Commons blocked action against Assad in 2013, put pressure on May to take action in Syria – or risk "legitimizing" chemical weapons.
"Once we accept that it is just another aspect of war, that is what it will become in the conflicts of coming decades with an arms race in chemical agents steadily expanded and legitimized," the former Tory leader said.
Hague also urged Britain and France to follow the US in taking a "more extensive" military approach. Last year, Trump launched airstrikes on a Syrian airbase following similar reports of an attack on Khan Shaykhun.
Hague also rejected the idea that any military action needs the backing of the UN – a notion pushed by Labour leader Jeremy Corbyn. Hague said that Russia would just "obstruct, deny and prevaricate."
Corbyn condemned the use of chemical weapons, but did not mention Assad in his statements – a move that has seen the Labour leader cop widespread criticism for a "weak" approach.
"I condemn it absolutely, I condemn the use of chemical or biological weapons in any scenario anywhere in the world," Corbyn said, adding: "The tragedy and the terror of people's lives in Syria can only end by a political solution.
"I call on all parties to cooperate urgently with the UN in conducting an inquiry into this so we can find out exactly who delivered that chemical weapon. The evidence is important and the use of international law is crucial to bring about a more peaceful and stable world in the future."
Some Labour MPs were left "disappointed" by Corbyn's comments, with MPs anonymously telling the Daily Telegraph that his stance was "unsurprisingly and depressingly weak" and "out of step with the general public [and]... out of step with Labour voters."
On Monday, Russian Foreign Minister Sergey Lavrov said that Russia welcomes an "honest investigation" into the alleged chemical attacks – and is against pointing the finger at anyone without definitive proof.
"We are in total support of a fair and immediate investigation, when they ask for it," Lavrov said. "However, when the investigation is intended to come at a predetermined point – that is, it was done by Assad with Putin's support – there are no grounds for a serious discussion."
Think your friends would be interested? Share this story!
You can share this story on social media: