Farage and the fishermen: Boat-burning protest accuses Theresa May of 'treason' over Brexit (VIDEO)
Published time: 9 Apr, 2018 12:09
Edited time: 10 Apr, 2018 07:31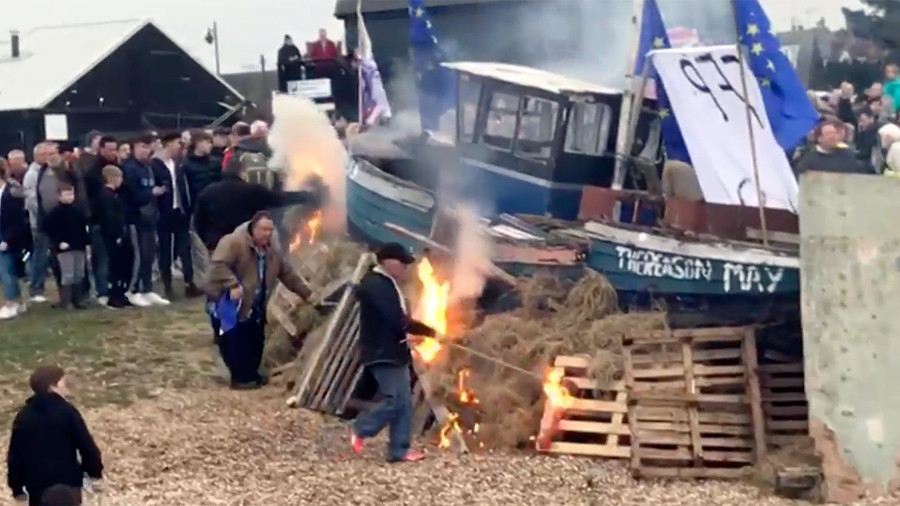 Former UKIP leader Nigel Farage joined a group of disgruntled fishermen to burn a boat in a seaside town to protest against what they branded Theresa May's "treason" over Brexit.
Farage took part in the Whitstable protest on Sunday, which saw Vote Leave fishermen reducing a vessel to ashes in an act of defiance over the Brexit transition deal that the UK is in the process of agreeing. During negotiations with Brussels, May conceded to the EU over maintaining access to British territorial waters during the 21-month transition period. That crushed fishing industry hopes of retaking complete control by March 29, 2019.
The protest, which was organized by Fishing for Leave, was part of a day of demonstrations in Plymouth, Hastings, Portsmouth, Milford Haven and Newcastle. Fishing for Leave said the vote to leave the EU had provided a "golden opportunity" to "rejuvenate our coastal communities and industry," the BBC reports.
Some fishermen were "sickened and enraged" that the government had "capitulated." The Department for Environment, Food and Rural Affairs said it recognized the disappointment but a transition deal was "safeguarding fishing communities."
Farage tweeted:
Just two weeks ago, the ex-UKIP leader joined a crew of Brexiteers hurling crates of fish into the Thames to protest against the renewed EU access to territorial waters. A total of 13 MPs sent a letter to May threatening to withdraw their support for the transition deal if she fails to take into account their demands.
If you like this story, share it with a friend!