Horrifying moment 2 drunk play-fighting men fall in front of oncoming Tube train (VIDEO)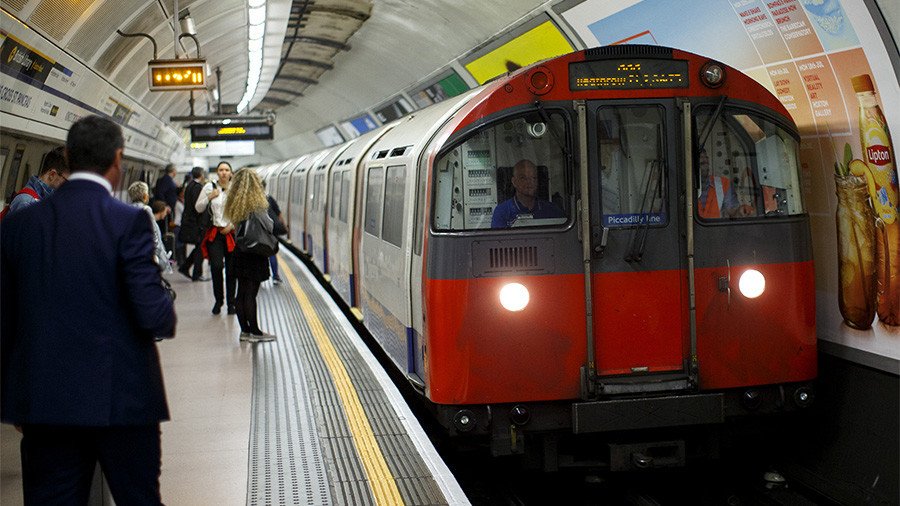 Two drunk men narrowly escaped the jaws of death after falling onto London Tube tracks and into the path of an oncoming train. The men were play-fighting when they fell, to the horror of others waiting on the Victoria line.
The two men have since been identified as Boguslaw Rybski, 34, and Przemyslaw Zawisza, 26. They were filmed messing about on the platform at Green Park, when events took a dangerous turn as an oncoming train approached. A cheerleading coach named Autumn, who caught the horrific scene on film, told Unilad what happened.
"They were really drunk and they were making so much noise. I was voice noting my friend and she couldn't hear what I was saying because they were so loud and making so much noise," Autumn said. "They were just screaming, singing really loudly, walking up and down the platform really close to the edge.
"My friend told me to Snapchat her a video of them, so I did and then the train started coming. They were play-fighting and scaring each other by pushing near the edge, but they were so drunk. They lost balance and fell in, and then they got saved.
"My friend thought one of them got stuck in and died because that's what it looks like in the video. Three guys pulled them out and just the guy's hoodie fell down and got hit by the train."
The cheerleading coach said the two men appeared to go into shock after the near miss. "After they were pulled out they were holding onto each other the whole time," she said. " When they came out they were just holding onto each other, I guess they thought they were going to die."
Witnesses told media that the two men then boarded the train, which sat at the station for 15 minutes before police arrived and arrested the pair.
TfL's Director of Transport Policing Steve Burton condemned the men for their dangerous actions, saying: "This behavior was extremely dangerous and not only put the lives of the men involved at risk, but others on the platform who tried to help. These reckless actions will not be tolerated and the police will take the appropriate action."
Both men were charged with endangering the safety of a person conveyed by railway, and have been released on bail to appear before Westminster Magistrates Court on April 19.
Think your friends would be interested? Share this story!
You can share this story on social media: