'Free speech is dead': Tommy Robinson's 'ban' from Twitter sparks outrage and joy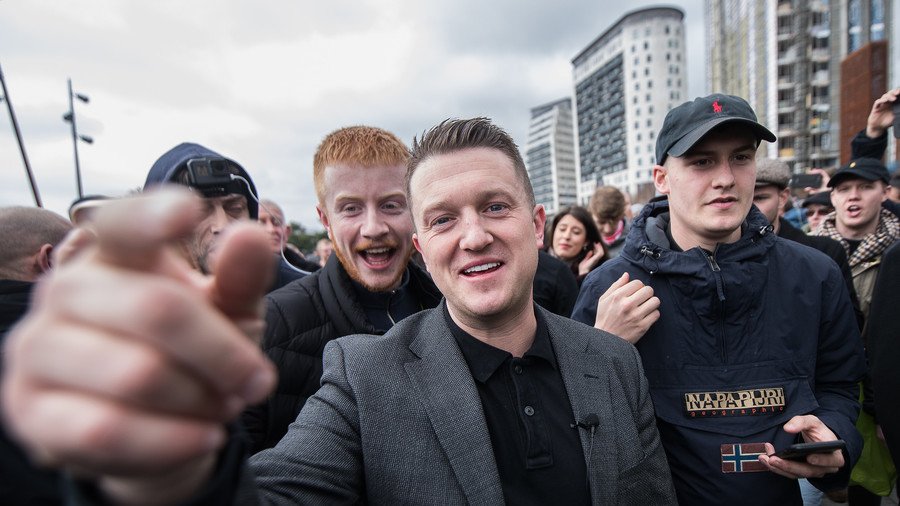 Tommy Robinson has re-ignited a row on free speech in Britain after he was banned from Twitter. Far-right activists and commentators have increasingly claimed they are being denied freedom of expression in the UK.
Furious fans of the outspoken EDL leader turned vlogger – accused by his opponents of inciting racism – have taken to social media to express outrage. Robinson was initially suspended on March 1 for referencing a Quilliam Foundation report.
"90% of grooming gang convictions are Muslims," Robinson wrote in a tweet on February 25. The think-tank research stated that 84 percent of 'grooming gang' convictions were Asian males in December last year.
Robinson's other Twitter account suggested the ban was permanent. It comes after his verified 'blue tick' was removed in November, when Twitter clamped down on far-right groups. Jailed Britain First leaders Paul Golding and Jayda Fransen, who were convicted of religiously aggravated harassment, were also suspended from the platform.
Fans of Robinson took to social media to express their outrage and the hashtag '#iamtommy' briefly trended.
Robinson came to prominence when he headed the English Defense League, a far-right street-protest movement whose marches would invariably descend into violence. Since coming to the fore, Robinson has faced constant opposition from anti-racism activists, some of whom voiced their pleasure at his apparent ban. Others took the opportunity to point out the irony with '#iamtommy,' reminding his fans that Tommy Robinson is actually one of many aliases used by activist, his real being Stephen Christopher Yaxley-Lennon.
Robinson, whose real name is Stephen Yaxley-Lennon, had over 400,000 followers at the time of his suspension. Twitter's policy over the coveted 'blue tick' is being changed following widespread condemnation of extremist views being propagated by holders of the verification.
"Verification has long been perceived as an endorsement. We gave verified accounts visual prominence on the service which deepened this perception," the company tweeted on Wednesday.
"This perception became worse when we opened up verification for public submissions and verified people who we in no way endorse. We're working on a new authentication and verification program. In the meantime, we are not accepting any public submissions for verification and have introduced new guidelines for the program."
Think your friends would be interested? Share this story!
You can share this story on social media: