'Vomiting' David Davis soldiers on through violent illness to talk Brexit… on live TV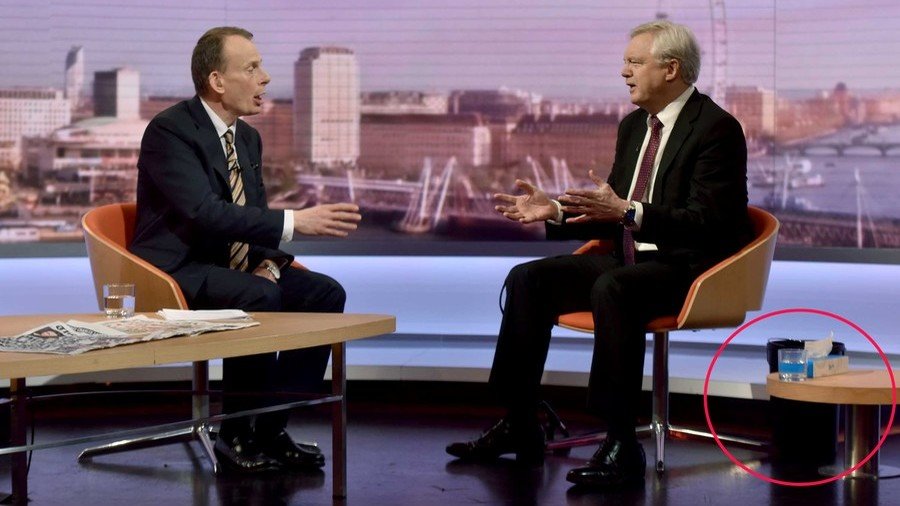 Many consider Brexit an emetic prospect, but that is not why Brexit Minister David Davis went on TV with a sick bucket. Davis sat down with the BBC's Andrew Marr on Sunday to talk Brexit – not even food poisoning would stop him.
The visibly pale Davis reportedly vomited right before he went on air while eagle-eyed viewers spotted a glass of water, tissues and a sick bucket next to him just in case disaster struck on live television. The Brexit Secretary was determined to keep calm and carry on, chatting with Marr about the Irish border issue after Brexit.
Other viewers kept watching in the hope another spasm would befall the polarising MP. There were plenty of clever quips on social media about being sick over the Brexit issue, while some praised Davis for soldiering on despite being so violently ill.
On the show, Davis told Marr that it was "incredibly probable" that the UK would reach a final deal with the European Union, adding that "you can never stop making arrangements" if a deal isn't reached.
He likened it to having home insurance, pointing out that "you don't expect your house to burn down, it's less than a one in 100,000 chance, but you have house insurance anyway." He also said physical checks at the Irish border could be avoided with "a whole lot of technology."
Davis said the Conservative Government will protect the Good Friday Agreement "at all costs," adding that they will not "allow a return to the borders of the past." The ill Brexit sec told the BBC program that "there is a risk in trying to focus just on the downsides because the real likely outcome – the overwhelmingly likely outcome – is option A. Option A is that we get a free-trade agreement, we get a customs agreement, all of those make the Northern Ireland issue much, much easier to solve."
Think your friends would be interested? Share this story!
You can share this story on social media: