Trans people labelled 'parasites' & an obstacle to feminism during Parliament event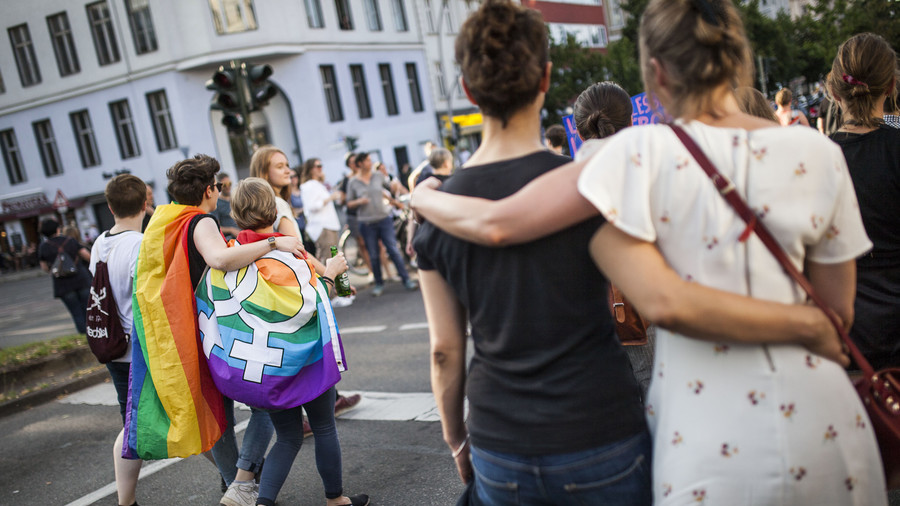 Transgender women in the UK "invade" women's spaces and threaten gender equality, it was claimed. An event in Parliament heard heavy criticism of the trans community.
Speakers at the 'Transgenderism and the War on Women' event in Parliament hit out at transgender people, attacking them for "parasitically" invading women's spaces and threatening their liberation. The meeting was held by the group 'We Need to Talk UK' and sponsored by Conservative MP David Davies.
Author Sheila Jeffreys, who opened the event in the House of Commons on Thursday, didn't hold back. A Pink News journalist reported her opening line was: "Men can't become women, what's so difficult about that?"
The controversial Australian academic went on to brand trans rights as "[one of many] internet exploited sexual fetishes that try to make themselves a rights movement." She then also likened raising a trans child to abuse.
Jeffreys said trans women "parasitically occupy" women's bodies in order to be seen as women. She said: "When men claim to be women…and parasitically occupy the bodies of the oppressed, they speak for the oppressed. They become to be recognised as the oppressed. There's no space for women's liberation."
The author later described trans women as "men who transgender" and claimed they are suffering from "parasitism." She was joined by Anne Ruzylo, 52, who was accused of being transphobic last year when she stepped down as women's officer for the then Labour's Bexhill and Battle. After the accusations, she was replaced in her role by trans teenager Lily Madigan.
Ruzylo, in turn, alleges she was subjected to months of harassment by trans rights campaigners. She reportedly criticized the reform to the Gender Recognition Act, stating it could result in the loss of women's rights to privacy in public spaces, such as showers and bathrooms. Ruzylo called the changes "harmful to women and girls from a legal perspective." Her comments were made in spite of some trans rights, including the right to use the bathroom of their gender, actually being in the Equality Act 2010.
David Davies MP, who sponsored the event, has often courted controversy in regards to trans issues. He has previously said he believes trans women "should be expected to use male facilities" unless they undergo a sterilizing surgery. He also referred to a trans woman as a "he/she."
During the event, the speakers criticized several prominent trans women, including Janet Mock, Lily Madigan, Caitlyn Jenner and Munroe Bergdorf. They were all referred to with masculine pronouns.
Jeffreys claims misgendering trans women is "fundamental to women's liberation." The attacks were countered by Chair of the Women and Equalities
Select Committee Maria Miller MP, who said Parliament is no place for stirring hatred and violence against trans people.
Speaking to PinkNews prior to the event, Miller said: "Parliament is there to make sure diverse views can be heard-freedom of speech is fundamental in our democracy. But there is no place in Parliament for anyone who voices views that break the law, create hatred against people protected under the Equality Act or incite violence against anyone including trans people."
"As MPs we have a personal responsibility to ensure the events we sponsor add positively to debate and understanding."


If you like this story, share it with a friend!
You can share this story on social media: