You can accuse Russians of anything, Salisbury spy poisoning craze shows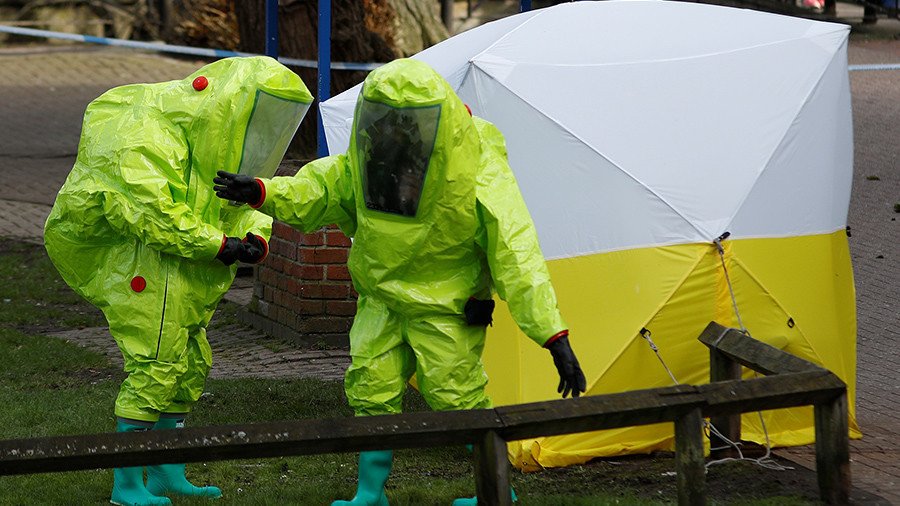 The poisoning of ex-double agent Sergey Skripal and his daughter is being investigated and no evidence has been made public. However, one thing has been proven beyond doubt – it's OK to say anything about Russia and Russians.
The last week has provided an opportunity for a mass unloading of theories and often ill-informed bile to be unloaded on anything connected with Russia. In the current climate, it is apparently deemed acceptable to make almost any accusation.
One of the most common phrases used in the British media and politics in recent days has been variations on the following sentence: "Of course, we shouldn't make accusations until we've seen the evidence, but..." Jon Snow from the last season of Game of Thrones provides the best response to that: "Everything before the word 'but' is horseshit."
The Salisbury story is a great opportunity for self-declared Russia experts (for that please read critics) to unload their criticism, free of being pulled up on their inaccuracies. Last week, various MPs stood up in the Houses of Parliament and appeared to blame Vladimir Putin for terrorist atrocities at Beslan, and in a Moscow theatre, and talked about declarations of war. Yet it's only Russians who are accused of making outlandish statements.
However, only in the British parliament in recent months has an MP ordered the removal of a Russian spy from the visitors' gallery, only to realize it was actually an American tourist. With all this in mind, here are some other examples of perspectives being lost in the mainstream media.
The Times, hypocrisy anyone?
In a story about how RT could be taken off TVs in the Houses of Parliament, The Times criticized RT for giving "...substantial airtime to a claim that the Skripals were potential drug abusers who had fallen ill after taking fentanyl, an opioid 'responsible for 60 deaths in the UK last year.'"
Around the same time, The Times' main story on the Salisbury incident started like this: "A major incident was declared at a hospital when people fell ill after being exposed to a dangerous substance thought to be the synthetic opioid fentanyl. One woman and a man were taken from a shopping center in Salisbury, Wiltshire, to the city's district hospital in a critical condition due to a suspected fentanyl overdose." Will The Times be removed from parliament then?
Everything before the word 'but' is ...
It's not alone in deciding that when a Russian is involved, the old adage "innocent until proven guilty" is no longer relevant, but Bloomberg certainly gave us a textbook example. Check this opening out: "It's too soon to conclude whether the former Russian double agent Sergei Skripal and his daughter Yulia are Moscow's latest overseas victims. UK authorities have just begun their investigation into the poisoning, while health officials treat nearly 20 others 'in connection' with the incident. Regardless, the West must confront President Vladimir Putin on how Russia has used murder as a tool of statecraft."
"Regardless of guilt, I have to think of something to say, because I've been asked to write a column before the evidence arrives…" the journalist may or may not have said.
Target the money… but not that money
One of the loudest calls has been for London to target the money and property of wealthy Russians living in Britain, especially those regarded as being close to Vladimir Putin. But there are always convenient exceptions.
The Telegraph is reporting "...the Conservative Party will not hand back £820,000 in donations from Russian oligarchs and their associates, the chancellor has said, because it would be wrong to 'tar them with Putin's brush.'"
It would also be painful to the bank account of the governing party.
The Guardian's view, where the details don't matter
The Guardian weighed in with an editorial on Friday about how Russia should be punished for crimes, real and imagined. It was particularly enraged that "…commentary on RT, Mr Putin's TV mouthpiece, observed that 'traitors to the motherland' are not safe in the UK."
It was later forced to correct itself because that commentary did not happen on RT, but on a domestic Russian channel. Russians though, they're all the same, aren't they?
MP shamelessly suggests England fans could be targeted
Russian politicians are constantly lampooned in the British media for their often-outlandish statements, but are any as bad as this? Tom Tugendhat MP, the Conservative chairman of the Foreign Affairs Select Committee, has led the attack against Russia. On Monday, when he was asked about whether the UK should boycott the upcoming World Cup, he said "I'm afraid the danger of Russia responding to British fans for actions taken by their government is all too real." This is baseless scaremongering, betrays a complete ignorance of Russia and Russians, and is about as inflammatory as you can get.
Remember, this is an MP for the ruling party, the head of a parliamentary committee, and he feels absolute freedom to say whatever he thinks, regardless of evidence... as long as it's about Russia.
A look behind the Curtain
Working at RT gives you an interesting perspective on what can seem like a witch hunt aimed at Russia. A small example would be a story the RT website wrote about Porton Down, the British lab testing the nerve agent detected in Salisbury. The initial idea came from a wire from the AFP wire service, and was written and published without a single pair of Russian eyes seeing it.
This would seem like an obvious story to write, and other publications also wrote about something similar. In no time at all, someone with thousands of Twitter followers who purports to be a Russian media analyst accused RT of "attempting to pre-emptively discredit the lab analyzing the nerve agent." There is no truth in this claim about the story, but this kind of tweet informs the debate nonetheless.
Russia's state media #Skripal conspiracy theory No.3:"Untrustworthy or Complicit Lab"RT is attempting to preemptively discredit the lab analyzing the nerve agent thought to be used, reporting that Porton Down is mired in controversy, has been accused of experimenting on humans. pic.twitter.com/PQvnJ1eF5z

— Julia Davis (@JuliaDavisNews) March 9, 2018
I can tell you that this is just the tip of the iceberg, but those who don't believe anything RT says won't believe this little anecdote, and therein lies the issue facing all sides. The rhetoric is getting in the way of understanding.
Think your friends would be interested? Share this story!
You can share this story on social media: