Oxford Uni apologizes for ordering cleaner to remove 'Happy Women's Day' graffiti
Published time: 8 Mar, 2018 16:43
Edited time: 9 Mar, 2018 10:43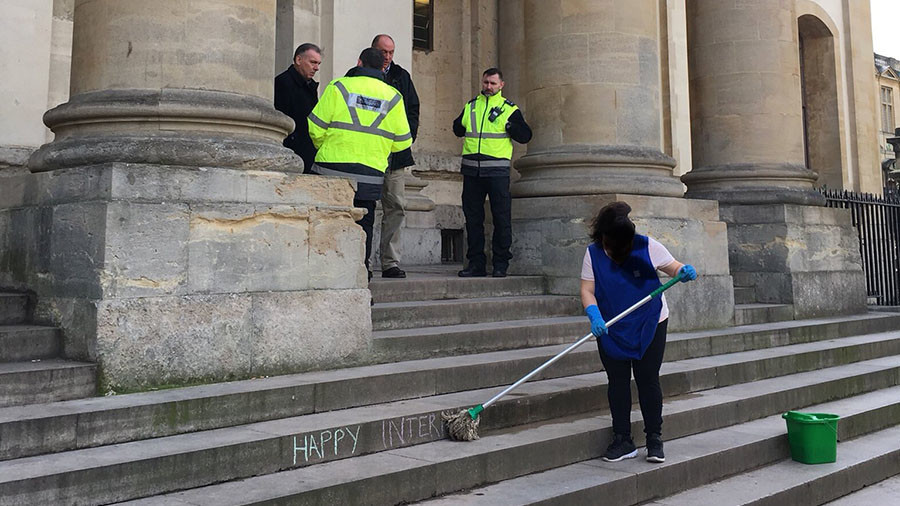 Oxford University has come under fire after pictures emerged of a female cleaner scrubbing a 'Happy Women's Day' slogan off one of its buildings… On International Women's Day. The elite university has since issued an apology.
The scandal broke after Associate Professor of Political Theory Dr Sophie Smith tweeted a picture of a female cleaner scrubbing the graffiti off the staircase of the institute's Clarendon building. She also suggested the worker was surrounded by male guards while doing so.
READ MORE: It's International Women's Day… so let's not forget how sexist Westminster actually is (VIDEOS)
The image was branded "shameful" by social media users. One said: "Having a woman scrub off chalk that says Happy International Women's Day while some blokes stand around in the background isn't a good look."
Once again, @UniofOxford suppressing freedom of expression, on today of all days. Someone in the management should explain to those blokes.

— Ancient Sounds is on strike (@sounds_ancient) March 8, 2018
Twitter user Jessie Raymond added: "A picture's worth a thousand words."
Oxford University has apologized for the incident."We are deeply sorry for this and for offence caused. International Women's Day is hugely important to Oxford. This should not have happened," it said in a statement.
Smith responded, asking for the University to apologize to the worker. She said: "I appreciate your apology, but far more importantly can you please make sure that the woman asked to remove the message receives a heartfelt apology, a warm cup of tea, the rest of the day off and, along with all our precarious staff, good enough pay to live in this city."
It comes as women from across the world celebrate International Women's Day, aimed at commemorating the female struggle for emancipation and gender equality over the centuries.
If you like this story, share it with a friend!