Free speech row erupts on Twitter as Tommy Robinson suspended after post about grooming gangs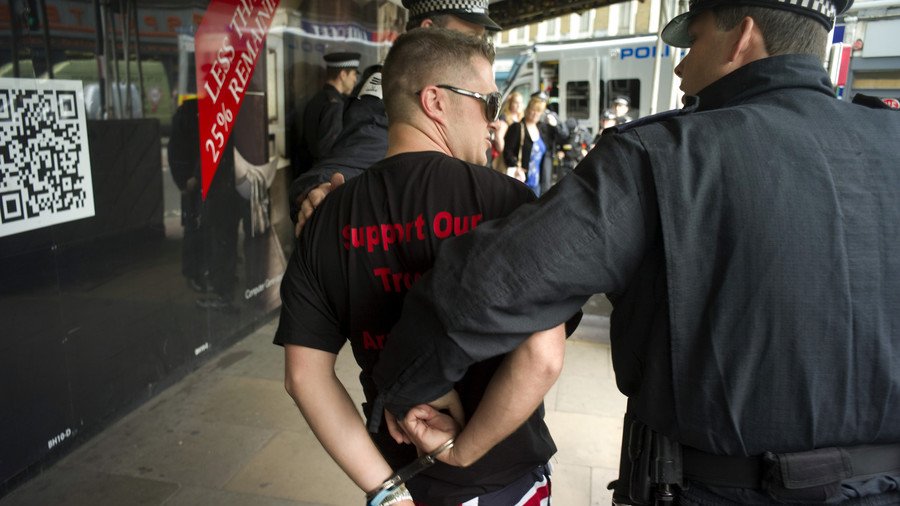 A freedom of speech row has erupted on Twitter after far-right activist Tommy Robinson was suspended from the platform. His supporters soon hit out at the company, claiming their rights of expression are being curtailed.
Robinson (real name Stephen Christopher Lennon) previously had his official 'blue tick' stripped by the social media giant. He has now been suspended from Twitter altogether after quoting a report which gave details on grooming gangs in the UK.
Think tank the Quilliam Foundation detailed, in a report released last month, that 84 percent of people convicted of child grooming-gang offenses since 2005 were from an Asian background. The report found 222 of 264 of people convicted of specific grooming-gang crimes were Asian, while 18 were listed as white and 22 as black.
READMORE: 'White Europe of brotherly nations' – Tommy Robinson represents UK at huge far-right Polish demo
Founder of the English Defence League (EDL), Robinson has reportedly received a seven-day suspension after inflating the number of people found to have been involved in grooming. "90% of grooming gang convictions are Muslims," Robinson wrote in a tweet on February 25. Twitter ruled Robinson, who frequently argues with liberals on the site, had breached the platform's rules.
Maajid Nawaz, founder of Quilliam, responded by messaging Twitter directly, standing up for Robinson. Nawaz and Robinson have often shared platforms after the former encouraged the latter to resign from the EDL.
"Tommy [and] I argue lots, but here he's quoting a FACT. @TwitterSupport are confused," he said, before explaining the difference between grooming-gang attackers and other types of pedophiles – who are mainly white because the UK is majority white.
Right wingers said their freedom of speech is being taken away by Twitter. Breitbart London Editor-in-Chief Raheem Kassam said he has been personally attacked by the social media giant.
Writing about the Robinson ban, Breitbart said Kassam was one of many who had 'verification ticks' removed for "sharing views the firm disagrees with." Breitbart UK's report stated: "Twitter once advertised itself as a platform for free speech, but has become increasingly political and censorious."
There is no right to freedom of speech in the UK. The country does not have a written constitution and has laws against hate speech and libel. Despite this, the right to free speech is supported by the European Convention of Human Rights, an organization the UK looks set to leave following Brexit.
Robinson, who has "gone independent" of any political group, said there is a plot to remove him from the public eye.
In a video, in which he mocks Twitter, a laughing Robinson said he will not stop getting his message out, but that he is facing a battle. "First they took my blue tick, now they've suspended me" he said.
"I've been suspended for putting out a fact – a complete fact. This is a build-up for them to remove me from social media – it's about eventually erasing Tommy Robinson."
Like this story? Share it with a friend!
You can share this story on social media: