EU's Jean Claude-Juncker says it would be good if he was British PM, prompting angry reaction
Published time: 23 Feb, 2018 13:37
Edited time: 16 Jul, 2018 12:23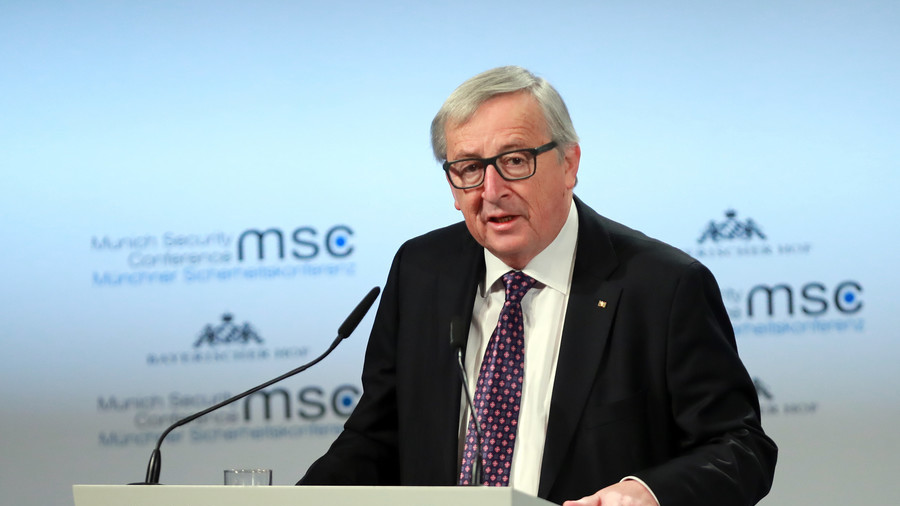 President of the EU Commission Jean-Claude Juncker took a dig at UK PM Theresa May as he told reporters it would be "good for Britain" if he was its prime minister. The reaction suggests agreement on that is far from universal.
Juncker said at a European Council summit on Friday: "I am not a British prime minister, it would be good for Britain if I was." He was replying to reporters who asked him what he thought the outcome of Theresa May's Brexit discussions with her divided cabinet would be. The response on Twitter was predictable.
It follows reports of Juncker smirking during an EU Commission press conference on Thursday when he claimed that he would "never interfere" in UK party politics. He said he "fully trusts" that May is capable of bridging differences within her Conservative Party.
He made the comments on the back of 62 Tory ministers sending May a "ransom" letter, in which they demanded that she seek a hard Brexit approach, and outlined exactly how she could achieve that. Juncker said: "I have full trust in the British prime minister, and I will never interfere in a party controversial matters."
The Luxemburg-born diplomat is the very same man who allegedly called May "deluded" over Brexit after he met the PM during a dinner at Downing Street in April last year. It was also reported that following the meal, in which May expressed her view on how the UK would drop out of the bloc, Juncker called German Chancellor Angela Merkel to tell her the so-called 'Iron Lady' is "living in another galaxy."
And just a few months later, in October, another leaked account of a dinner between the two in Brussels claimed Juncker said May had pleaded for help to save her political life. The German Frankfurter Allgemeine newspaper claimed he described her as appearing "anxious," "tormented," "despondent and discouraged." The EU chief, however, denied making any such remarks.
If you like this story, share it with a friend!