Trump is 'spineless and cowardly' over mass shooting in Florida, Piers Morgan attacks his old friend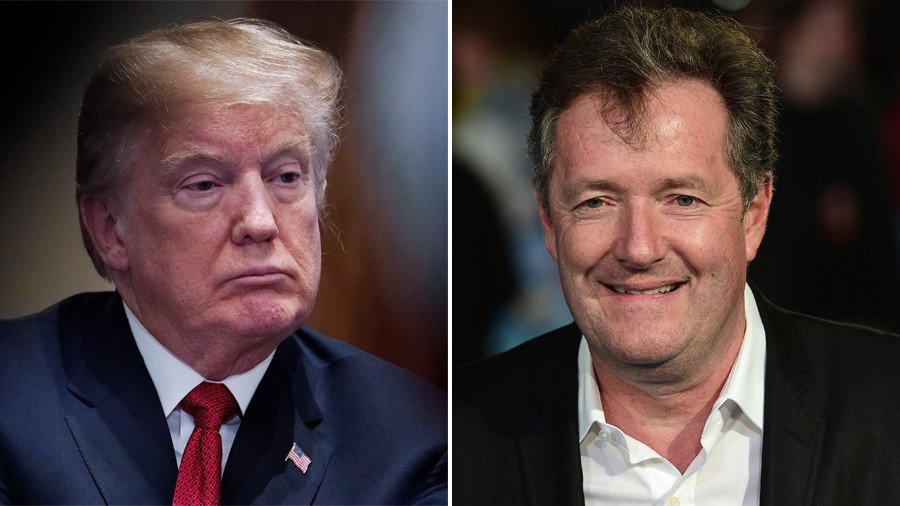 Piers Morgan has lashed out at US President Donald Trump following the horrific high school shooting in Florida that left 17 dead when an expelled teen took to the campus grounds with an AR-15 semi-automatic rifle.
Morgan, a close friend of the president, has previously been critical of Trump's weak stance on gun control – unsurprising, considering the US' National Rifle Association spent $31.19 million on pro-Trump advertising campaigns during the 2016 presidential election.
Three weeks ago in Trump's first international interview in Davos, Switzerland, Morgan questioned the president on his little-to-none approach on toughening gun laws.
"Domestic gun violence killed at least 32,000 (in 2016)," Morgan told Trump during the Davos interview.
"Two of the worst mass shootings in American history have now happened on your watch in Las Vegas and at a church in Texas."
Morgan, who struck up a friendship with the now-US President after he won Trump's Celebrity Apprentice in 2008, asked "people will be saying, you're very tough on security, you want to keep Americans safe, but if you don't do anything about gun violence at all that seems an irrational position for somebody who wants to keep Americans safe?"
Trump tried to deflect the question, pointing out than France – which has far tougher gun control laws than the US – still suffers at the hands of gun-toting maniacs.
"Take a look at that terrible slaughter where so many people were killed… by thugs with guns," Trump said.
"So the bad guys have the guns and if you would have had somebody with a gun when they walked in so you could have bullets going in the other direction, you wouldn't have hundreds of people killed."
In an opinion piece written for the Daily Mail, Morgan pointed out the president's warped logic.
"What Trump didn't say is that 130 people were killed in Paris that night; a terrible toll, but around a quarter of the number of people killed by guns in America every week," the often controversial TV host wrote.
"When I pointed out that countries like Britain, which also has very tough gun laws, average just 32 gun deaths a year, he deflected again: 'But you have a lot of terrorism.'
"Yes, it's true Britain had a number of Islamist terror attacks in 2017. But the total death total was smaller (35) than the number murdered by guns in America every day.
"He intends to do absolutely nothing to stop these massacres happening again," Morgan wrote in his op-ed.
"Well, I'm sorry Mr President, but this just isn't acceptable. You can't pretend to be tough on security but turn a blind eye when yet another US school (there have been over 280 school shootings since Sandy Hook) is turned into a human slaughterhouse.
"It's spineless and cowardly, and you know it."
On Thursday, Trump took time out of his busy schedule for yet another Twitter break.
My prayers and condolences to the families of the victims of the terrible Florida shooting. No child, teacher or anyone else should ever feel unsafe in an American school.

— Donald J. Trump (@realDonaldTrump) February 14, 2018
This little social media tidbit enraged Morgan, who is a well-known advocate of tightening gun regulations.
"The tragic truth is no child, teacher or anyone else now feels safe in an American school," he wrote for the Daily Mail.
"The Florida attack was the ninth biggest gun atrocity in American history.
"That means three of the country's worst ever mass shootings have now happened on your watch – in just five months."
Then, borrowing from the American president's own vocabulary when he spoke of the Las Vegas shooting that left 59 dead and 851 injured, Morgan summed up Trump's gun law argument with a few deft strokes of his pen.
"That's 'sicko', Mr President," he wrote. "And anyone who thinks the only answer to this carnage is even more guns is also 'sicko.'"
Think your friends would be interested? Share this story!
You can share this story on social media: