Corbyn's Communist spy links? Labour leader slams 'ridiculous smear' over Cold War meetings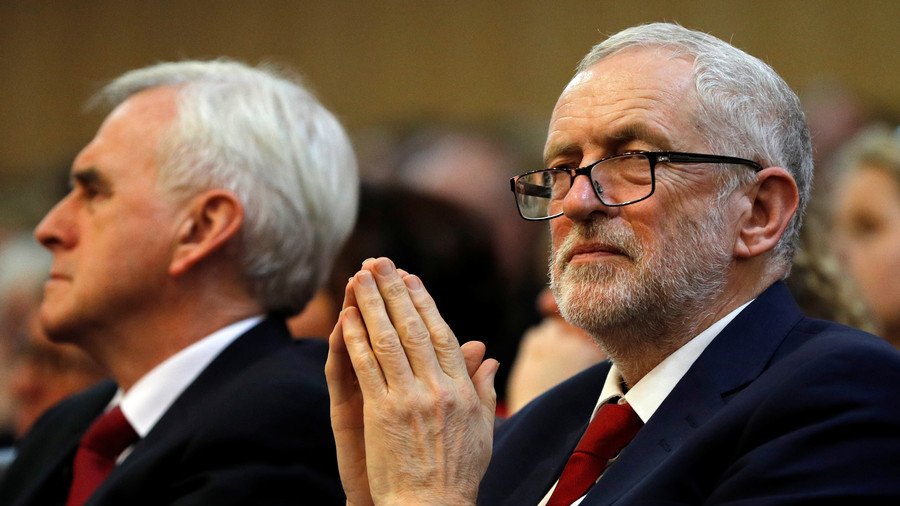 Jeremy Corbyn has denied allegations he met with a communist spy during the Cold War as Conservative ministers begin attacking his loyalty to the UK.
The Labour leader allegedly met with agents in the 80s after being vetted by the then-Soviet government of Czechoslovakia.
Secret files obtained by The Sun suggest Corbyn met with agents at least three times, twice in the Commons.
The Czech documents listed him as one of the security team's "sources" and he was given the code name 'COB.'
However, Corbyn has flat out rejected the suggestion after being attacked by defense minister Gavin Williamson.
Williamson, speaking at a meeting of Nato in Brussels, said: "Jeremy Corbyn has never had Britain's interests at heart. Time and time again he has sided with those who want to destroy everything that is great about this country, whether it is sympathising with terrorists, backing rogue regimes, or cosying up to those who want to inflict pain and misery on the British people.
"That he met foreign spies is a betrayal of this country. He cannot be trusted."
A spokesman for Corbyn hit back claiming the allegations are far from true.
He said: "Gavin Williamson should focus on his job and not give credence to entirely false and ridiculous smears, which as we know from Darren Osborne (jailed for life for the attack on Muslims in Finsbury Park), can have a potentially deadly effect.
"Jeremy has consistently made the correct calls in the interests of security and peace, including on the Libyan intervention and his opposition to the disastrous Iraq war that has caused catastrophe in the region and made us less safe at home."
The Labour Party has dismissed the paper's claim stating that Corbyn met with a Czech diplomat but did not provide any privileged information.
It was suggested by Labour Party officials that Soviet agents were known for lying about sources.
"The claim that he was an agent, asset or informer for any intelligence agency is entirely false and a ridiculous smear," the spokesperson said.
"Like other MPs, Jeremy has met diplomats from many countries. In the 1980s he met a Czech diplomat, who did not go by the name of Jan Dymic [the name quoted by the Sun], for a cup of tea in the House of Commons.
"Jeremy neither had nor offered any privileged information to this or any other diplomat.
"During the Cold War, intelligence officers notoriously claimed to superiors to have recruited people they had merely met. The existence of these bogus claims does not make them in any way true."
The files, according to The Sun, say Corbyn was: "Negative towards USA, as well as the current politics of the Conservative Government."
The documents also suggested he was "supporting the Soviet peace initiative."
Files suggest he gave over intelligence over the arrest of an East German – but this is strongly denied.
Author on the history of East German intelligence services, Prof. Anthony Glees told the paper: "It shows breathtaking naivety from someone who wants to head the British Government."
If you like this story, share it with a friend!
You can share this story on social media: