'No need to attend': Young Labour responds to critics of straight, white men 'ban'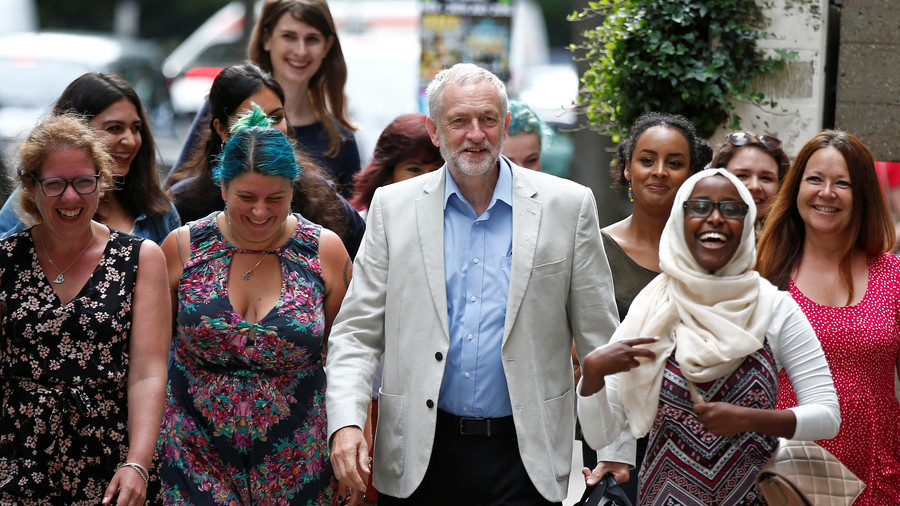 Young Labour activists have defended themselves against accusations that straight, white men have been 'banned' from attending an event. The move prompted fury among some Labour supporters and the party's critics on the right.
The equalities conference invites only members under the age of 27 who are self-defining as black and ethnic minority (BAME), disabled, LGBT and/or women to attend. The list of requirements for attendees infuriated Conservative MPs, party activists and employees.
In turn, the organizers of the conference and their supporters accused Tories of generating faux outrage in a bid to create a scandal. They also challenged the accusations that white, straight men were being barred from the event.
The organizers then defended the requirements in an article written for the Guardian.
The national chair of Young Labour, Caroline Hill, and the youth representative on Labour's National Executive Committee, Jasmin Beckett, said the men – who are straight and white – are overrepresented and therefore barred from attending.
"Politics is not just anyone's game," they wrote in the Guardian. "Typically, if you want to play, you have to be a certain type of person. You only have to glance at Parliament to see that straight, white, able-bodied men are disproportionately overrepresented."
The pair explained how they are looking to boost representation in four categories including women, disabled, BAME and LGBT+.
However, a flyer inviting people to attend caused uproar when it was discovered that white, straight men are probably not welcome.
The Labour members attempted to justify the move.
"In theory, the only people 'excluded' are the most overrepresented in politics; anyone who is straight, white, male and able-bodied. Luckily for them, they are not oppressed in politics. They do not need to attend a conference about liberation and under-representation. We do not believe this to be a controversial statement," they wrote.
At the event, running for the past three years, "liberation officers" are elected from groups underrepresented in politics, the Young Labour representatives wrote.
"If the last election taught us anything, it's that young people are a new force in politics and that they are fed up with the status quo," Hill and Beckett wrote.
"Labour is the only party committed to making parliament more than just a debating club for old white men. It's time Parliament looked more like our streets.
"We want to ensure that young people from groups that are regularly excluded from our system are involved in the decisions that affect them. We want them to be empowered to advance their representation in local and national politics. It isn't new or revolutionary, but it remains incredibly necessary. Many of the Tories creating faux outrage online oppose the idea that we need more BAME, women, LGBT and disabled people in Parliament. We strongly disagree.
"Only 7.8 percent of MPs are from a black and minority ethnic background, whereas approximately 14 percent of the country is of BAME origin. We will unashamedly campaign to correct this imbalance, and BAME members will be at the front of the campaign.
"We're young, we're diverse, we're organised, and we're coming for them."
Think your friends would be interested? Share this story!