Get a whiff of London's fatberg as it goes on display in London museum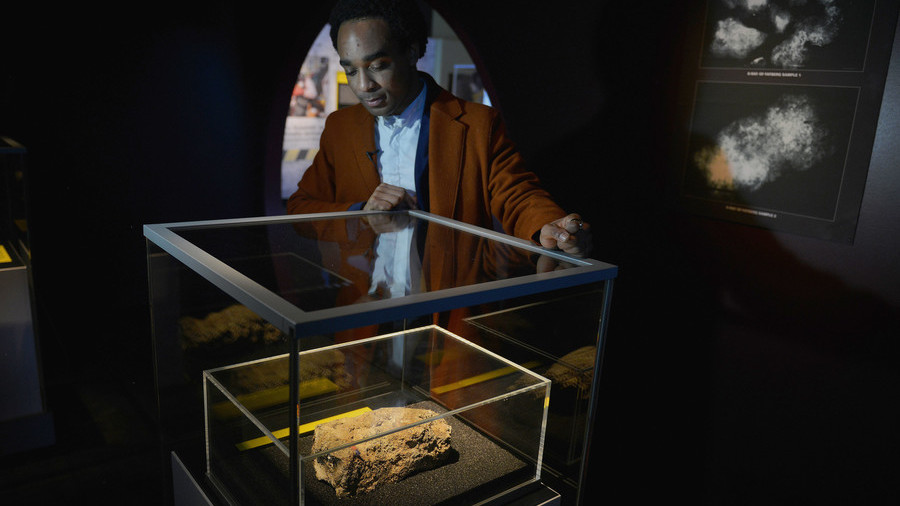 London's 130 tonne fatberg, which was plucked from the British capital's Victorian sewers last year, has been preserved and put on display. Now visitors can get up close and personal with the monstrosity at the Museum of London.
Curator Vyki Sparkes said she has been hoping for a fatberg for a number of years to preserve for the museum.
"Nobody has ever tried to preserve a fatberg before – they normally just take them out and destroy them," she told Wired.
So when the disgusting vast sewer blockage, made up of congealed cooking oils, baby wipes, condoms and other rubbish, was found under the streets of Whitechapel, Sparkes knew this was her chance.
It took Thames Water nine weeks-worth of hacking at the terrible mass, which weighs as much as 11 double decker busses, before they were able to suck a chunk through a manhole cover and pop it into a quarantined area.
That is where the foul mess dried for seven weeks, hardening into a shoebox-sized bit of sewage. It was then placed into two perspex viewing boxes. The exhibition – called 'Fatberg!' – opens Friday.
"This is a live experiment basically. It's its own little microworld," Sparkes said.
But why put the blob on display at all? Sparkes said there is a lot learn about modern life through the fatberg, considering everything that ended up in it was flushed or thrown away by a Londoner to begin with.
"It's got that play-off between fascination and disgust," she said.
"For me it sums up the power of an object, you can really start a difficult conversation by putting something on display."
There is concern the mass will disintegrate with time. A second chunk of the Whitechapel fatberg obtained by the London Museum broke apart after it was dried.
Sparkes worries the remaining lump won't survive the full five month exhibition.
"At the back of my mind I still have a slight concern that it will turn into a massive bundle of flies or a pile of dust," she said.
See the only remaining piece of the Whitechapel fatberg at the Museum of London's exhibit when it opens February 9.
Think your friends would be interested? Share this story!
You can share this story on social media: