Gigantic 'fatberg' found under London, weighing same as 11 double-decker buses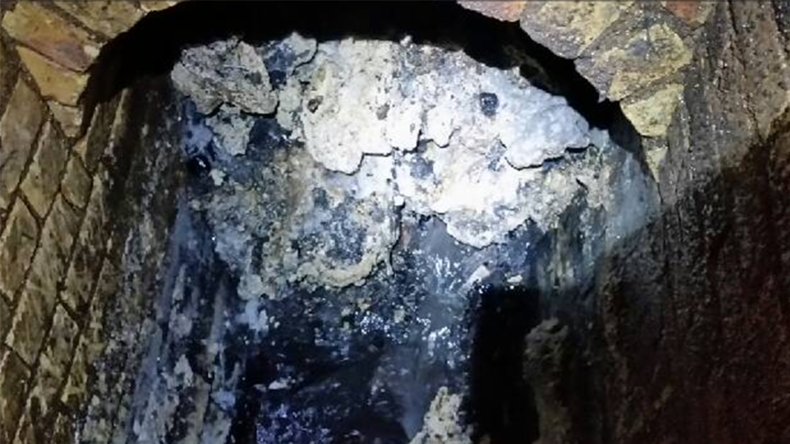 A gigantic 'fatberg' – the weight of 11 double-decker buses – has been discovered in an East London sewer.
The stomach-churning contents include discarded wet wipes, nappies, fat and oil – in a congealed mass which weighs 130 tons.
The 250-meter-long 'fatberg' is more than twice the length of two football pitches and was found lodged in Whitechapel's waterways.
A massive operation to remove the record-breaking berg from the Victorian sewer system will take three weeks.
"This fatberg is up there with the biggest we've ever seen. It's a total monster and taking a lot of manpower and machinery to remove as it's set hard," Thames Water quoted Head of Waste Networks Matt Rimmer in a statement.
"It's basically like trying to break up concrete.
"It's frustrating as these situations are totally avoidable and caused by fat, oil and grease being washed down sinks and wipes flushed down the loo [toilet]."
A massive 20 to 30 tons will be removed from the fat mass under Whitechapel Road by an eight-man crew, every day.
The berg will be recycled after it is battered with hoses to break it down and sucked up using machinery.
"We check our sewers routinely, but these things can build up really quickly and cause big problems with flooding. The sewers are not an abyss for household rubbish" Rimmer said.
Thames Water spends about £1 million (US$1.33 million) a month clearing blockages from its sewers, despite clear warnings on how to dispose of household waste.
CCTV camera inspections revealed the 1200mm-high by 700mm-wide sewer was totally blocked by the fatberg, which is 3.5 meters below ground.
Thames Water said work will continue throughout September until the sewer is clear.
You can share this story on social media: