'Robert Burns wasn't bent!' Labour MP under fire for comments on gays & Chinese people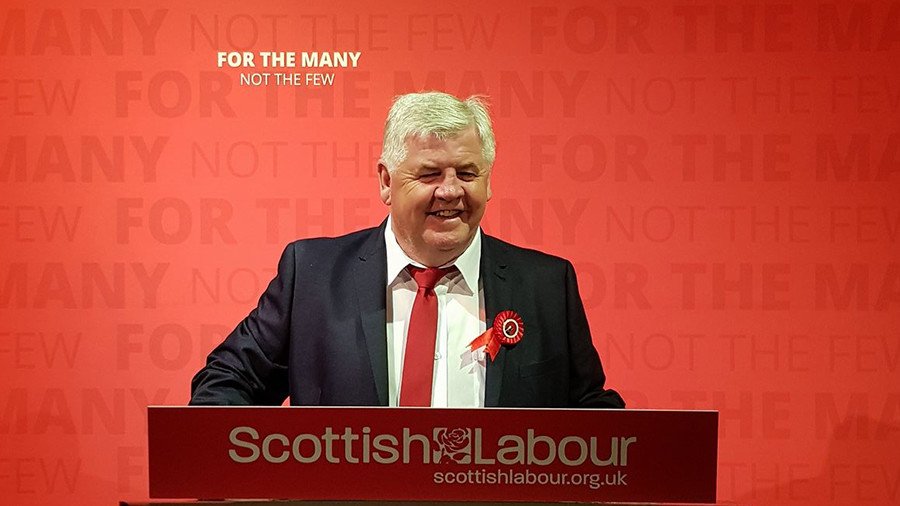 A Labour MP has been disciplined after he made "deeply offensive" racist and homophobic remarks. He joked about a Scottish poet being "bent" and referred to a Chinese meal as a "ch***y."
Hugh Gaffney, the MP for Coatbridge, Chryston and Bellshill, apologized for comments he made at a Scottish Labour Students' Burns Supper, held at Edinburgh University on Saturday. He was there to make an 'Immortal Memory' speech – meant to show why Scotland's national poet Robert Burns is still relevant.
The Herald newspaper in Glasgow reported that the MP shocked the Labour students when he delivered a self-penned poem in which he joked that Burns, Scotland's national poet, was not "bent."
"He started off being a farmer/But he really was such a charmer/Going for ales he frequent/Telling the lads and lassies he was not bent," he said.
Another line was: "Like all good Scots we love the banter. Rabbie [Burns] had a pal Tam O'Shanter. The story goes he had a few ales. Riding his horse into the night. Passing the cemetery he gets a fright. He nearly done a s**te."
He also reportedly used a racist term to refer to a Chinese meal, telling his audience he could have stayed at home instead to eat a "Ch***y."
In a statement, Gaffney said, "I want to offer my unreserved apologies for what I said; my remarks were deeply offensive and unacceptable."
Gaffney admitted he used "certain language relating to the Chinese and LGBT communities that was wrong and completely inappropriate." He said he would attend equality and diversity training and "do everything possible to make amends with both the Chinese community and the LGBT community."
Labour said Gaffney has been reprimanded.
"Hugh Gaffney MP has been reprimanded for using inappropriate and offensive language. He has apologised unreservedly and referred himself for equality and diversity training. The Labour Party is clear that this language is unacceptable," it said in a statement.
The Scottish National Party (SNP) called for him to be suspended from the party. The SNP's Humza Yousaf took to social media to call for Labour to withdraw the party whip role from Gaffney.
"This is utterly awful. A simple apology and diversity training does not cut it. In fact, it is a slap in the face to suggest this absolves him," Yousaf said. "At very least he should be suspended from the party and whip withdrawn."
This is utterly awful. A simple apology and diversity training does NOT cut it! In fact it is a slap in the face to suggest this absolves him.Hope @LabourRichard takes serious action against Hugh Gaffney. At very least he should be suspended from the party & whip withdrawn. https://t.co/LZxHYucIeh

— Humza Yousaf (@HumzaYousaf) February 7, 2018
During the recent Scottish Labour leadership campaign, contender Anas Sarwar said he was subjected to racial abuse and drew up an eight-point plan on how the party could tackle everyday racism and Islamophobia.
"Today is sadly another example of why we need to recognize that everyday racism is a reality," Sarwar tweeted in response to Gaffney's comments.
The MP's comments come a month after he complained about being subject to slurs over his weight and Scottish accent during a Commons debate. The Labour pollie said he had been heckled "something awful" by Tory MPs.
Gaffney is not the first MP in recent times to be called out for using racist and homophobic slurs.
Tory MP Anne Marie Morris came under fire described a no-deal Brexit as "the n***** in the woodpile," while Labour MP Jared O'Mara mocked gay people as "fudge packers" and "poofters," referred to anal sex as "driving up the Marmite motorway," and made a series of misogynistic comments, including that "fat women don't deserve respect."
Think your friends would be interested? Share this story!
You can share this story on social media: