Anti-fascists protest against spread of 'posh schoolboy' alt-right Generation Identity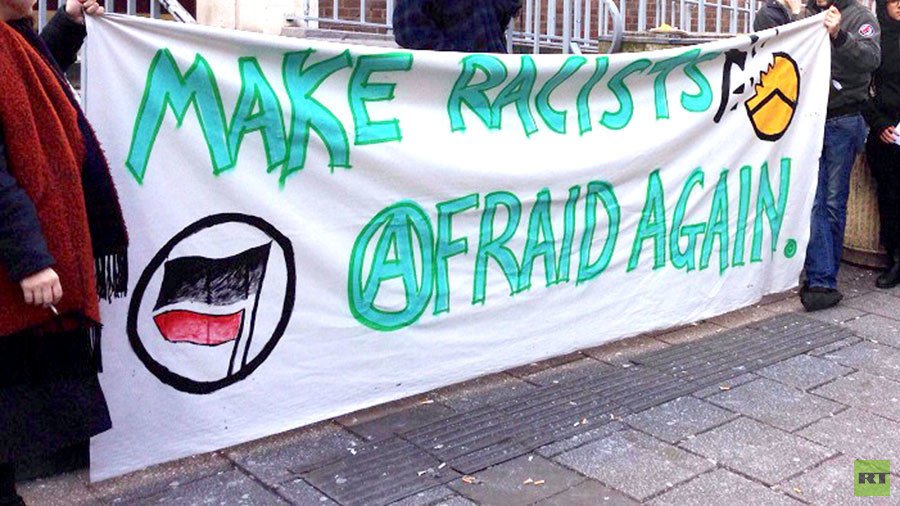 A group of anti-fascists have rallied in Central London to protest against the rise of alt-right group Generation Identity (GI), a group made up of "posh school boys" opposing white supremacy to liberalist ideas.
Students from the School of Oriental & African Studies (SOAS) gathered outside the university to protest against GI's "increase in activity in the UK in general, but specifically within university campuses."
GI is an ethno-nationalist movement which was founded in France and then spread across the EU, with its most prominent chapters in Austria and Germany.
One of the group's tenets is 'ethnopluralism,' an idea which advocates racial segregation as a means of preserving ethnic differences.
Britain first had a taste of the alt-right group when one of the movement's key activists, Markus Willinger, visited London to address a meeting of the far-right Traditional Britain group back in 2013.
Then in 2017, the group garnered media attention over its Defend Europe mission – an attempt to hamper NGOs' efforts to save migrants from drowning in the Mediterranean.
In July that year, a Facebook page for Generation Identity Great Britain and the Republic of Ireland was launched, billing itself as the "newest branch of the pan-European Identitarian movement." The page currently has just over 3,000 followers.
Now SOAS students, known for their social activism, are protesting against the group allegedly distributing propaganda on it campus and "showing this off" in a video.
One of the SOAS demonstrators, who went by the pseudonym Ben Blissit, told RT the public should not be deceived by the GI's claim to be any different from "fascism."
"They are commonly described as the alt-right and try to construct themselves as a pretty face of fascism, using pseudo-intellectual items.
"Which is why they try to place themselves into universities doing flyering, and lots of outreach... to differentiate themselves from the fascism that we traditionally recognize, even though in our opinion the message is the same."
The protest comes as the National Police Chiefs Council (NPCC) revealed last year that far-right extremism now accounts for nearly one-third of terrorism cases referred to the government's flagship counter-radicalization program Prevent.
The Prevent strategy itself has come under the spotlight ever since it was implemented in schools and universities in 2015. The program obliges staff workers and academics to "have due regard to the need to prevent people from being drawn into terrorism."
While it claims to tackle all forms of extremism, the strategy has been accused of being "built upon a foundation of Islamophobia and racism," and was ineffective and counterproductive.
Muslim communities across England, however, are understood to have expressed distrust in the system after being quizzed about it by Max Hill QC, the government's independent reviewer of terrorism laws, in the wake of the Westminster, Manchester, London Bridge, and Finsbury Park attack.
When asked if he thought the group's establishment in the UK represents an increased terrorist threat by the far-right, Blissit said: "We don't think fascism has never not been a threat."
Think your friends would be interested? Share this story!
You can share this story on social media: