Remainers seek charming, Brussels-backing Tory to take on Jacob Rees-Mogg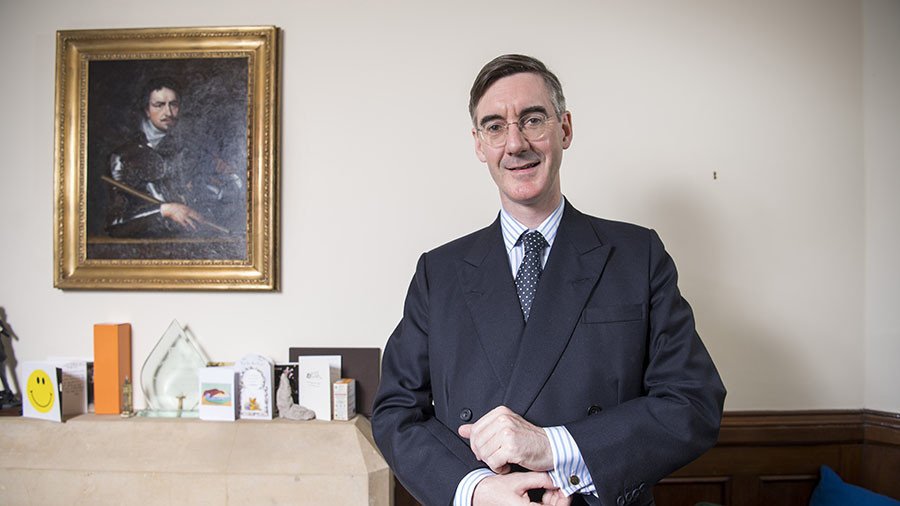 The search is on for a charming, popular Conservative to woo the public while uniting a fractured party. No, really, it's true.
The mission has been launched from within the Tory party, in order to find an MP who can stop the increasingly ambitious Brexiteers, Jacob Rees-Mogg and Boris Johnson, from taking the reins from Theresa May.
The backbenches are being scoured in the hunt for a "Stop BoMogg" candidate – a task as cringeworthy as the title given to it.
Despite Brexit-backing, red-line supporting Rees-Mogg gaining support from Tory members and backbenchers, several pro-EU MPs have warned they could not support a party with him at the helm.
As May's premiership becomes increasingly fraught, the cracks in cabinet are no longer easy to hide. One insider said there is "whiff of death" around May's administration after a year of rumored coup plots.
Remain supporters Justine Greening and Anna Soubry hinted this week that they could walk away from the party if hardline Brexiteers take control of government,
A hypothetical leadership race presents serious problems for the Remainers, which also include Chancellor Philip Hammond. 'Spreadsheet Phil' is unlikely to be backed, while none amongst his allies are popular options either.
The promotion to the role of defense secretary of May's ally, Gavin Williamson, caused outrage among top military brass, and Jeremy Hunt is deeply unpopular over problems with the NHS.
Home Secretary Amber Rudd has hardly made an impression on the national popularity radar, and her majority in the Hastings constituency remains dangerously slim.
Although some observers are predicting the emergence of up to 20 candidates in the race for the Tory leadership, not a single name has the current appeal of Rees-Mogg, who has battered the government in media interviews and has come close to accusing Downing Street of failing on Brexit.
Soubry also blasted the PM in a BBC interview when she told her to 'grow a backbone.' She told Newsnight on BBC Two: "If it comes to it, I am not going to stay in a party which has been taken over by the likes of Jacob Rees-Mogg and Boris Johnson. They are not proper Conservatives."
"It is easy to keep one person off the final ballot that goes to members," one senior minister said. "It is harder to stop two. We need an 'Anybody but BoMogg' candidate."
Others are backing Soubry in a split that could rupture the fractured party. "She is spot on," said one senior minister. "This needs saying. People will not put up with this Johnson, Mogg, Gove nonsense. They need to shut the f*** up."
Insiders believe BoJo will run for PM with Rees-Mogg and Michael Gove at his side, claiming the May leadership could fall at any moment. One cabinet minister told The Times: "It could all suddenly end tomorrow. If someone texted me now and said she'd resigned I wouldn't be all that surprised. There is a whiff of death about it all.
"It's not absolutely clear who in Downing Street is running things — it's just about getting through to the end of the day. There's no vision, no plan, it's just about survival."
Think your friends would be interested? Share this story!
You can share this story on social media: